Triveni Kuchi
Social Sciences/Instructional Services Librarian
Librarian,
James Dickson Carr Library
Library Faculty,
New Brunswick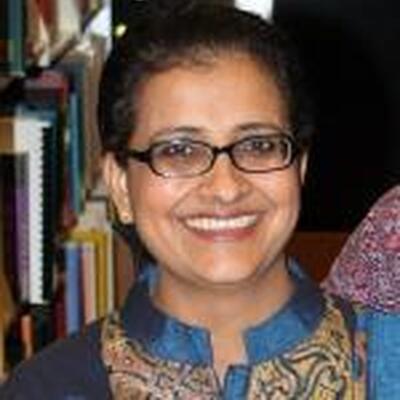 Contact
James Dickson Carr Library
75 Avenue E
Piscataway, NJ 08854-8040
As a subject specialist and liaison librarian for sociology, criminal justice, South Asian studies, and Middle Eastern studies, Triveni provides reference, instruction, research consultations, liaison services, and is responsible for collection development in these subject areas. You may contact her to recommend resources, make requests for purchases of books and other materials, setup a library research session for your class or an appointment for a research consultation. Triveni is an engaged liaison librarian working with Rutgers undergraduate and graduate students, faculty, and the community. She is currently the Faculty & Graduate Services Coordinator at the New Brunswick Libraries. During 2010–2013, Triveni served as the director of the South Asian Studies Program at Rutgers School of Arts and Sciences, managing the programming, planning, and hosting of events and lectures, and advising undergraduate minors and graduate students in their course selection and research. She continues as an executive committee member of the program. In 2012, as a member of the Rutgers University IAPP Institute for International Education study tour, Triveni traveled to India for developing higher education contacts and partnerships. She is an affiliate faculty member in the African, Middle Eastern, and South Asian Languages and Literatures (AMESALL) Department at Rutgers. Triveni received her MLIS from Rutgers—The State University of New Jersey and has a master's degree in economics from the University of Bombay, Mumbai, India. Her research interests include communication, self-presentation, information literacy, liaison interactions, and collaboration and partnership-building in the context of libraries. She has a number of publications, reports, and presentations to her credit and is the recipient of several awards, including the 2006 Leader in Diversity from Rutgers University, and Special Recognition Awards for extraordinary contributions in advancing the mission and goals of ALA-Association of College and Research Libraries' Asian, African and Middle Eastern Section (2006–7, 2010–11, and 2011–12). She is active in ACRL sections and interest groups and is currently the chair of ACRL Anthropology and Sociology Section's Liaison Committee (2017–2019), and the convener for ACRL Asian, African and Middle Eastern Interest Group (2018–2019).
Selected Reports, Publications and Presentations

Kuchi, Triveni. Uncovering Masks: Ritual, Fun, Transformation, and Protection. With Rossi, Lauren. The Agenda: Rutgers University Libraries Faculty and Staff Newsletter. May 2020. https://go.rutgers.edu/dxu6brrx.
Kuchi, Triveni. Project lead. With team members Jonathan Sauceda and James P. Niessen. Research Practices of Scholars in Literatures, Writing, and Cultural Studies: A Qualitative Study of Faculty at Rutgers University–New Brunswick, Research Project in conjunction with Ithaka S+R and the Modern Language Association (MLA). 2019.
Kuchi, Triveni. (2019) Myanmar Librarians' Research and Study Tour at the Rutgers University Libraries – A Report. In Luckert, Y. & Inge, L. (Eds.) The Globalized Library:  American Academic Libraries and International Students, Collections and Practices. Chicago: ACRL Press.
Kuchi, Triveni. Re-presenting or Representing? Portrayals of Librarians on Academic Library Websites – A Framework. Research Forum, Asia, Africa and Middle East Section AAMES Interest Group, ACRL, ALA held at the Annual Conference of ALA, June 23, 2018, New Orleans, LA.
Kuchi, Triveni. RU Citing? Solutions & Strategies for Avoiding Plagiarism, with Mary Elizabeth Boccolini. Carr Library Exhibit. An extension to this exhibit with a variety of resources online is available from https://libguides.rutgers.edu/plagiarism. 2018.

Kuchi, Triveni. Glocal Niche: Creating Unique Media Collections in Collaboration - A South Asian Studies Report. Invited Presentation for Global Scholarly Communication: International Collaboration with Focus on Asia, Africa and the Middle East. Forum of Asia, Africa and Middle East Section AAMES, ACRL, ALA held at the Annual Conference of ALA, June 24, 2017, Chicago, IL.

Kuchi, Triveni. The Elusiveness of Progress: Voting Rights in America, with Paul Kibala. Carr Library Exhibit. A curation of topics related to the exhibit is available from http://libguides.rutgers.edu/voting-rights. Spring 2016.

Kuchi, Triveni. Invited Presentation on Middle Eastern Library Resources, First Year Interest Groups (FIGs), Rutgers University, October 15, 2015.
Kuchi, Triveni. Building Relationships and Co-creating Value: The Catalyst Liaison Librarian. Invited presentation at Tata Institute of Social Sciences, Sir Dorabji Tata Memorial Library, Mumbai, India. August 20, 2014.
Kuchi, Triveni. The Engaged Librarian: Some Implications and Insights for Co-Creation of Value with Users. Invited presentation at SNDT Women's University, SHPT School of Library Science, Mumbai, India. August 22, 2014.

Kuchi, Triveni. RU-India Collaborations: A Strategy Report. With co-chair Prof. Dipak Sarkar and members of the  Ad Hoc Faculty Strategic Planning Committee for India, Rutgers University. March 2013.

Kuchi, Triveni. IIE International Academic Partnership Program-2012 India Strategic Report. With Alison Price-Rom, Joanna Regulska, and David Finegold. June 2012. Sent to Institute for International Education as part of the IAPP strategic planning documentation and study tour participation.

Kuchi, Triveni. Report of RU Delegation's Study Tour of Educational Institutions in India Jan 22 – Feb 3, 2012. With David Finegold, Alison Price-Rom and Joanna Regulska. February 15, 2012. Presented at various meetings at Rutgers University.

Kuchi, Triveni. Being Em<be>dded - Embedded Librarianship: Some Implications and Insights for Co-Creating Value. [Listed title: Embedded Librarianship New ways of building relationship with Faculty- http://lib.jnu.ac.in/embedded-librarianship-new-ways-building-relationship-faculty]. Invited Presentation at Jawaharlal Nehru University, New Delhi, India. Feb 3, 2012.

Kuchi, Triveni. Wearing Two Hats: Librarians' Experiences Running Academic Programs at Rutgers. SAPAC Brown Bag presentation, Pane Room. With J. Niessen. December 10, 2011.

Kuchi, Triveni. "Eating the Potato: Culture, Communication & Camaraderie - a Diversity Festival celebrated at Rutgers University Libraries." with Marilyn Wilt. Poster presentation at the National Diversity in Libraries Conference, July 16, 2010.

Kuchi, Triveni. Invited Speaker. "Resourcefully vying for our user's attention with library's primary sources: Serendipitous moments or Strategic Value-Added Marketing?" American Library Association (ALA) Annual Conference, Washington D.C., June 27, 2010.

Kuchi, Triveni. Moderator, "Collaborative Musings: Conversations on Culture, Access and Partnerships." Co-organized with Marilyn Wilt and Connie Wu. Diversity Program. Rutgers University Libraries. April 21, 2010.

Kuchi, Triveni. Co-organized and participated in Diversity Festival. "Eating the Potato: Culture, Communication and Camaraderie." June 2009.

Kuchi, Triveni. "Information Literacy: The Partnership of Sociology Faculty and Social Science Librarians." With Patti Caravello, Edward L. Kain, Susan Macicak, Gregory L. Weiss. Teaching Sociology, v.36, January 2008. Pages 8-16.

Kuchi, Triveni, "Communicating Mission: An Analysis of Academic Library Web Sites." Journal of Academic Librarianship, v.32, no.2, pages 148-154, 2006.

Kuchi, Triveni, "Constant Change And The Strategic Role Of Communication - A Selective Annotated Bibliography." Library Management, v.27, no. 4/5, pages 218-235, 2006.

Kuchi, Triveni, "Librarians Without Borders: Reaching Out To Students At A Campus Center." With Laura Bowering Mullen and Stephanie Tama-Bartels. Reference & User Services Quarterly. v. 43, no.4, pages 310-317, Summer 2004.

Kuchi, Triveni, "One-Stop Search: Finding Full-Text Information For Social Science Journals." Behavioral and Social Sciences Librarian, v.23, no.1, pages 81-96, 2004.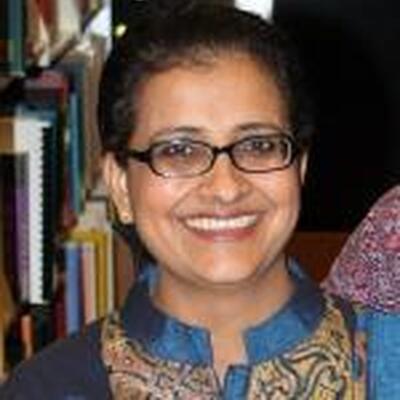 Follow
Find Similar Librarians