Home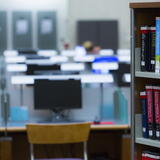 Service Updates
While the university has temporarily shifted to mostly remote instruction, many library locations remain open for use by RU ID card holders. Please check the library hours before visiting. Our online resources are available 24/7 and our physical collections may be accessed via our contactless services including:
Still have questions? Ask us!
Choose Your Campus
For location-specific hours, services, people, and other local information, choose your division.