Introducing Library Mobile
Rutgers University Libraries partnered with Ex Libris to bring you an innovative mobile app that puts the power of our libraries at your fingertips. Sign in to Library Mobile with your Rutgers NetID for quick access to library hours, study space reservations, personalized course reading lists, research assistance, and more. Download the free app today!


Features
Hours: Plan your next visit with quick access to library hours.
Book a Library Space: Need a space for your group project? View and book available spaces directly within the app.
Reading Lists: Easily access assigned course materials.
QuickSearch: Discover Rutgers Library print and electronic resources on the go.
Chat with a Librarian: Need research tips? Have questions about citing materials? Click the "Ask Us" tile to connect to a live librarian.
My Account: Manage your library loans and pickups, and receive due date reminders.
Events: Discover and register for library events in just a few taps.
Maps: Use our maps feature to navigate around campus and get to the library you need.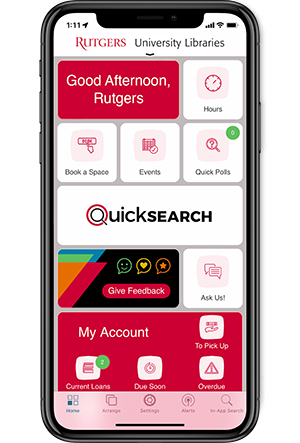 Enter to Win!
Download the app and log in to automatically be entered to win great prizes such as $50 gift cards and Rutgers swag! 
Follow us on social media (Instagram and Twitter) for more details and announcements of contest winners. Winners will be chosen randomly and notified via email.
Follow #RutgersLibraryMobileContest to see our contest winners and posts.
Only actively enrolled Rutgers students are eligible to win prizes.
FAQ
Is Library Mobile free? Yes!
Do I need a NetID? Yes, you need a Rutgers NetID to access Library Mobile's features.
How do I download Library Mobile? Follow the steps at Installing Library Mobile.
Can I customize my app? Yes, you can personalize app settings and reorder tiles (via the "Arrange" icon on iOS and by selecting "Arrange" from the main app menu on Android.) 
How do I get help with Library Mobile or library resources and services? Tap the "Ask Us!" tile in the app or Ask a Librarian on the website to chat with a live librarian during operating hours.
Who is Ex Libris?  Ex Libris is a leading global provider of cloud-based solutions for higher education and research. Rutgers University Libraries is the first North American institution to launch the Ex Libris Library Mobile app. 
How can I provide feedback about my Library Mobile experience? We'd love to hear your thoughts! Tap on the "Give Feedback" tile to share feedback, submit suggestions, or report a problem.