Spotlight On...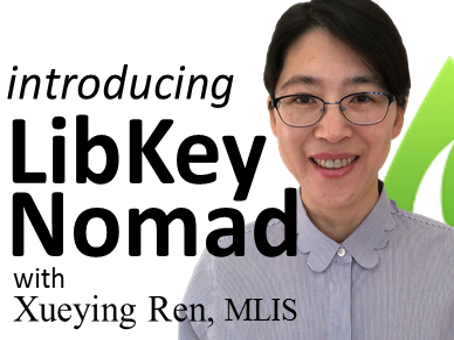 What is LibKey Nomad? 

LibKey Nomad is a free browser extension that can help users access full-text journal articles that are usually behind a paywall.   With just one click, you can pull-up an article and start reading.    
How does LibKey Nomad work?
LibKey Nomad links users to the Rutgers University Libraries' e-journal holdings, which often means no more tedious logging in each time you want to read an article.  LibKey Nomad works especially well with PubMed, Wikipedia, and Scopus.  But it's great with many more sites, too! 
Who is LibKey Nomad for?
Rutgers students, faculty and staff.  Really, it's for anyone who wants to get hassle-free access to full text articles.   

How do users access LibKey Nomad?

It's simple really. Just follow these steps.
How To Install LibKey Nomad
(1) Download LibKey Nomad (https://thirdiron.com/downloadnomad/)
(2) Follow the installation instructions (works in Chrome, Firefox or Edge, Brave and Vivaldi)
(3) Select Rutgers University when prompted.
How to Use LibKey  Nomad

(1) Click on one of the available buttons below a citation
(2) Download PDF, Article Link, or Access Options to view or request the article full text
Who should users contact for assistance with LibKey Nomad?
Users can directly contact Third Iron Support (https://support.thirdiron.com/knowledgebase) or email me . 
Do you offer any training on LibKey Nomad?
Here's a great video that explains it all ( https://www.youtube.com/watch?v=6umhqr5gGj4 )