About New Brunswick Libraries
New Brunswick Libraries serve the full spectrum of teaching, research, and public service activities at Rutgers-New Brunswick. Library faculty and staff are committed to meeting the needs of a diverse population through outstanding service, collections, tools, instruction, and partnerships. We align our goals and themes with the Rutgers University Strategic Plan, the Rutgers-New Brunswick Academic Master Plan, and the Rutgers University Libraries' mission and vision.
Strategic Plan Goals
Empower student success
Strengthen faculty and graduate student research and teaching
Build connections
Strategic Plan Themes
Enhance the research ecosystem
Prepare stakeholders for professional readiness and success
Augment physical and virtual library spaces
Maximize Rutgers-New Brunswick academic and societal impact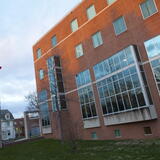 Support the Libraries
Your gift can support any aspect of Rutgers University Libraries and will help ensure that the libraries continue to provide essential resources for the university community, the state of New Jersey, and beyond.