About Dana Library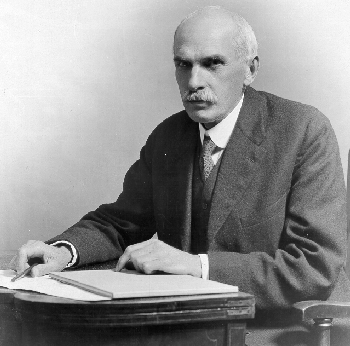 John Cotton Dana was a remarkable man whose vision and achievements continue to influence librarians and library users across the nation. He arrived in Newark in 1902 to become the second director of the Newark Public Library, where he continued to work until his death in 1929. Among his innovations were the acquisition of foreign language materials and newspapers by which he encouraged recent immigrants to use the Library and the establishment of the Business Branch library in the center of Newark's commercial district. He converted the library's fourth floor to exhibit space. It was so successful that it led to the construction of a new building a few blocks away from the Library. The Newark Museum opened its doors in 1926.
Mr. Dana was involved in much of the public life in Newark. For example, he served on the board of trustees for the institutions which have coalesced into Rutgers-Newark. When the New Jersey Law School first expanded its two-year preparatory program into a four-year college in the late 1920s, it was named the Dana College. This is approximately the time that Dana's name became associated with the library supporting the College as well as the Seth Boyden School of Business. In honor of his contributions, John Cotton Dana was known as Newark's First Citizen.
Our vision
The John Cotton Dana Library at Rutgers University–Newark envisions itself as a user-focused intellectual hub providing access to and participating in the production of knowledge. We will achieve this through the infusion of our services, unique collections, expertise, and state-of-the-art technologies into our user community.