Rutgers Urban Sketching Project to Launch in November
New Brunswick
Urban sketching is a movement created in 2007 by Seattle journalist and illustrator Gabrile Campanario. Although similar to plein air painting (to paint outdoors), a term which was made most well-known by the French Impressionists during the 19th century,  urban sketching looks at the ideas of visual storytelling in a virtual environment and the educational value of on-location drawing. This movement encourages drawing spaces and places on location, rather than drawing from photographs. Urban sketching brings together an international group of people who "Show their world one drawing at a time." The goal is simple: sketch what you see, in- or outdoors, and share online.  You don't need to be an artist, expert, or someone who draws all the time.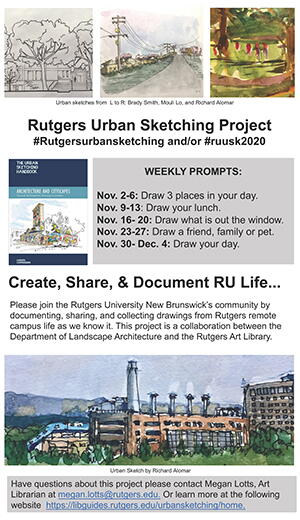 Upload your sketch and tag this project on social media using the hashtags #RutgersUrbanSketching or #RUusk2020.
Please join the Rutgers University–New Brunswick community throughout the month of November and the first week in December by documenting, sharing, and collecting drawings from your campus and daily life as you know it. To participate in this project, upload your image to your preferred social media and tag us at #RutgersUrbanSketching and/or #RUusk2020
PROMPTS:
November 2, 2020: First prompt. Draw 3 places in your day. 
November 9, 2020: Second prompt. Draw your lunch.
November 16, 2020: Third prompt. Draw what you see out the window 
November 23, 2020: Fourth prompt. Draw a friend, family member, or pet. 
November 30, 2020: Fifth prompt. Draw your day.
This project is a collaboration between the Department of Landscape Architecture and the Rutgers University Art Library. If you have questions about this project, please contact Megan Lotts, Art Librarian at megan.lotts@rutgers.edu or learn more at the project's website.  
Urban Sketchers Manifesto
We draw on location, indoors or out, capturing what we see from direct observation.
Our drawings tell the story of our surroundings, the places we live, and where we travel.
Our drawings are a record of time and place.
We are truthful to the scenes we witness.
We use any kind of media and cherish our individual styles.
We support each other and draw together.
We share our drawings online.
We show the world, one drawing at a time.