"Take it with you" Now on Display at the Rutgers Art Library
New Brunswick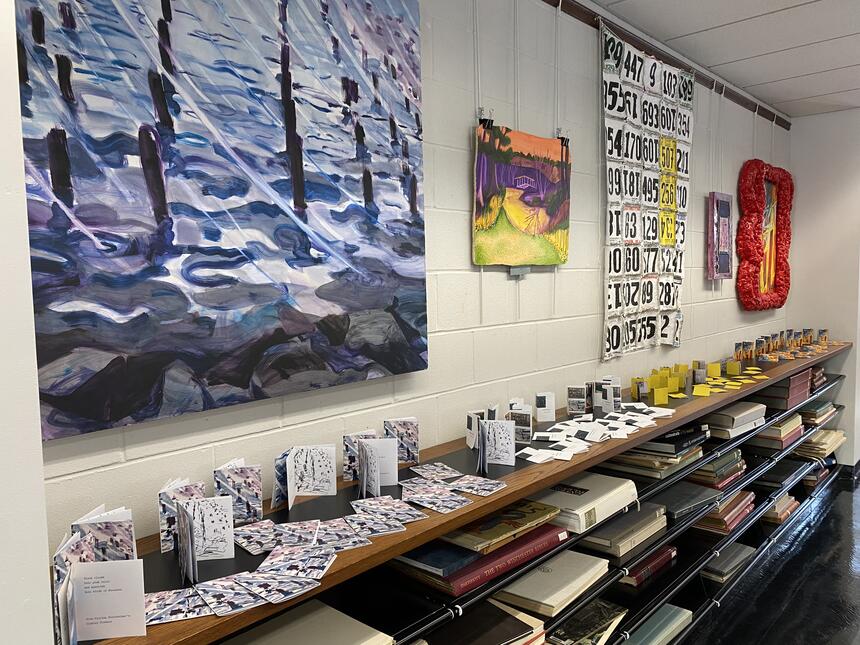 This spring the Rutgers Art Library will host a free public exhibit of artwork by Rutgers Mason Gross Art & Design students who are completing (May 2022) or have recently received (May 2021) a Bachelor of Fine Arts (BFA) degree.  The exhibit will be on display from February 1, 2022, through March 31, 2022, and consists of paintings, photography, and prints. As well, each artist has created a zine which viewers may take home with them (while supplies last). 
The exhibit came to fruition after the co-curators, Serafina Kennedy and Lauren Krasnoff, visited the Art Library for a visual literacy workshop presented by Megan Lotts, Art Librarian. Enamored with the library, the bountiful resources, and the exhibition spaces, Kennedy and Krasnoff knew the Art Library would be an excellent space to share their work. The zines used throughout the workshop also inspired the idea for each artist to create their own zine related to their work(s) on display. 
As described by Megan Lotts in her recent book, Advancing a Culture of Creativity in Libraries : Programming and Engagement, a zine, short for magazine or "fanzine," is a non-commercial, handmade, self-published resource often devoted to unique or specialized subject matter. Zines can be made with just pen and paper, but they also often include re-purposed texts and images. Like many other libraries, New Brunswick Libraries collect zines and use them for teaching, marketing, workshops, and more. To learn more about zines as well as examples found in Rutgers Special Collections & University Archives, visit the CREATE Research Guide. 
The co-curators of the exhibit shared their thoughts about zines. Serafina Kennedy hopes that "by including zines with our artworks, we are able to offer the viewer an interactive component to our show as well as engage with them on a more intimate level." Lauren Krasnoff notes that "making art accompanied by zines allowed us to forefront the research, thought processes, and supplementary media which make their way into our artistic practices. We hope to give the viewer both an insight and a tangible piece of our work that encapsulates the spirit of "take it with you"."
Participating artists include Johanna Cordasco, Serafina Kennedy, Ali Kosloski, Lauren Krasnoff, Sophie Mahoney, Elizabeth Pope, Heliya Sefat, Giancarlo Venturini, and David Yang. 
Have questions about this exhibit or need help with scholarly research in the Arts?  Contact, Megan Lotts, Art Librarian.