Bookable Spaces & Technology
Bookable Spaces and Technology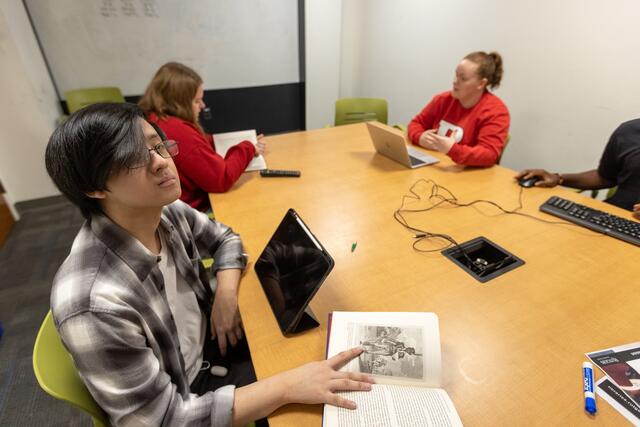 Study rooms on the second floor of Robeson library are available for student use. Please review our study room policies prior to booking. View a map of the second floor to see the floor layout before your reservation.
Other spaces in the library include graduate study rooms (rooms 209, 210, 212), a computer classroom (up to 40 students and 1 instructor), and room 256 (up to 10 occupants). Contact us for more information.
Technology in the room
Each room contains a large display monitor, an Apple TV, a Windows PC, and a room recording camera. The center of each table has a command console for cables to attach various USB/VGA/HDMI devices.
Technology you can borrow
Visit the information desk to check out a laptop or other technology.
Three (3) HP ProBook 440 G6 Notebook PC
Four (4)  TI-30Xa Calculator Standard
Three (3) DVD Drives
Device Charging Cables
Two (2) Android - USB-C 
Three (3) Android - Micro-USB