Computers & Printing
Rutgers University Libraries partners with Rutgers University's IT department to provide access to computing stations, labs, and printing services for Rutgers students, faculty, and staff.
A select number of public computers, printers, and scanners are available for alumni, guests, and members of the public.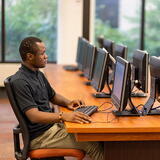 Camden
Robeson Library houses multiple areas with computers, including a Computer Classroom which provides technology for instructors and holds up to 24 students, the Rutgers - Camden IT Student Computer Lab, a Microfilm room, and multiple study rooms with a variety of technology.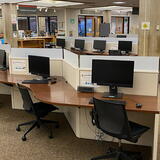 Newark
The Computer Lab/Technology Resource Center at Dana Library includes Windows and Mac computers, a 3D printing space, as well as access to scanning, copying, and printing services.  Non-Rutgers guests may also use some computers and printers with access to our subscription resources. Please ask for an access code at the Circulation Desk.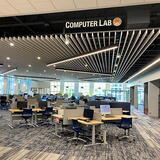 New Brunswick
Computing labs are spread among the libraries on the Busch, College Avenue, Cook/Douglass, and Livingston campuses. Access to computers is via NetID, and the labs include PCs and Macs, printers, and an extensive suite of software. A select number of computers are available for public use. Public scanners are located in each library and available for use by all individuals on site. Some New Brunswick libraries also have public copiers.