New EZBorrow Platform Launches Today
Universitywide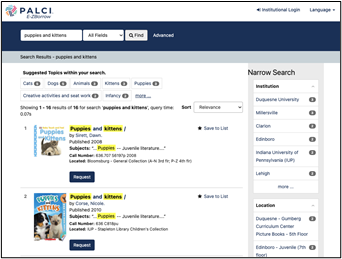 We're excited to let you know that the EZBorrow service, the service that underpins our automated Rutgers interlibrary loan program for borrowing books and other physical items from libraries throughout our region, has migrated to a new technology platform effective today. Any requests you made previously in the old platform will be closed out upon return of those items, and all new interlibrary loan requests will be created in the new EZBorrow platform.
You'll probably notice changes to the look and feel of the EZBorrow interface, including a new search and discovery page, and a login page that makes use of your Rutgers NetID single sign-on account.
Although the underlying EZBorrow technology platform is changing, the key benefits of the EZBorrow service remain the same. You can still check out books from any one of our 60+ university and research library partners around our region. The system also features automated processing, allowing staff to get your requested materials to you quickly and effectively.
This new platform makes use of open-source software that allows libraries to improve service to our patrons by using the latest library technology. It also improves libraries' ability to collaborate across institutions, while controlling costs, giving you world-class access to library collections.
EZBorrow: What's new
A new search/discovery interface allowing users to see and request materials held at our 60+ partnering institutions

Filter/facet functionality for easy browsing

Improved login functionality using your institutional single sign-on account

Behind-the-scenes communication and notifications, allowing our library staff to effectively fill your requests

New EZBorrow logo
Planned future enhancements
Today, the platform supports interlibrary borrowing of books and other physical items, but in the future, this platform will also allow patrons to borrow electronic materials as well. Please stay tuned as we continue to improve our interlibrary loan program using this new technology!
What do you need to do?
Keep requesting materials as usual. Although the platform is changing, the service remains the same. If you wish to keep your request history, please download it prior to the end of August as this information will not be ported over from the old system.
Questions? Contact us!
Although we aim to make this transition as smoothly as possible, we expect there will be questions! Please don't hesitate to contact our library staff if you need assistance.