Pop-up Performances at the Douglass Library
New Brunswick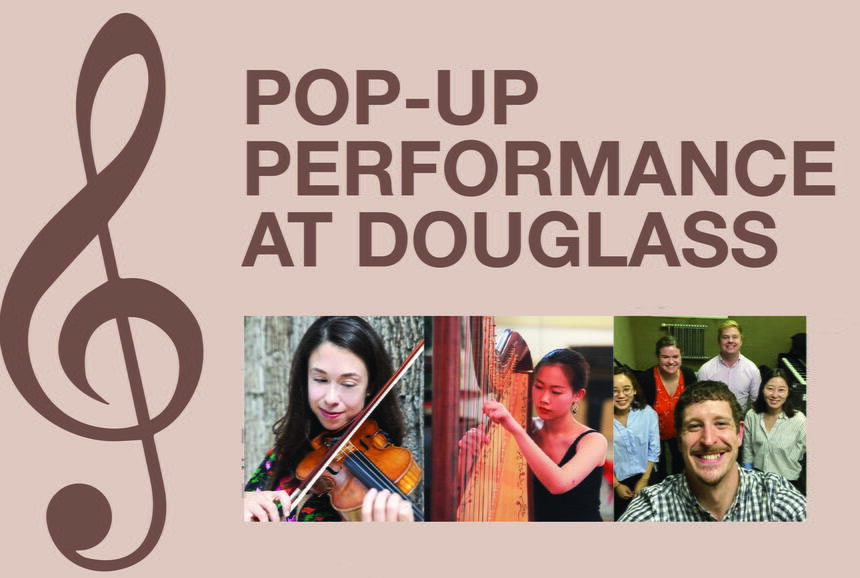 Feeling stressed as finals approach? Sometimes music has the ability to slow the perception of time. Come by the Douglass Library for a moment of music to help you relax. There are two opportunities to catch a pop-up performance as part of the Stressbusters series at Rutgers – New Brunswick Libraries.
On December 13th you can hear The Fantaisie for Violin and Harp, composed while Camille Saint-Saëns was vacationing on the Italian Riviera. The short concert presented by Lindsey Jones (Violin) and Shenna Yang (Harp) will also include the classic intermezzo, Méditation from Thaïs, by Jules Massenet.
On December 16th, the program will be the Allegro con moto from Paul Taffanel's Wind Quintet in G minor, full of vibrant contrast between upbeat and dreamy sections. The music will be performed by Hanna Kim (Flute), Hilary Hobbs (Oboe), Keith Spradlin (Clarinet), Jonathan Livolsi (Bassoon), and Jisun Oh (Horn).
Both performances will take place from 3:00 to 3:30 pm in the Mabel Smith Douglass Room at the Douglass Library.
Each performances is a component of the Chamber Music graduate course, offered by Rutgers Mason Gross School of the Arts.