Rutgers University–Newark Archives
The formation of Rutgers University-Newark Archives (RU-NA) marks a milestone in the history of Rutgers–Newark.  Formally established in 2019, the John Cotton Dana Library maintains archival and special collections in RU-NA in order to preserve the historical record of the campus of Rutgers University-Newark, its role as an anchor institution in Newark, and Rutgers-Newark's impact on the history, economy, infrastructure and academic culture in the city of Newark.    
Our Mission
Rutgers-Newark is a highly diverse, dynamic anchor institution working to realize a vision of becoming a model 21st-century urban research university that serves the public good.  As an anchor institution, the university has invested in infrastructure projects that leverage the physical, cultural, and intellectual assets of the university and the community.  RU-NA embodies Rutgers–Newark's vision for an inclusive model of higher education, and the commitment to diversity as a shared value within the institution.  The mission of the Archives is to collect and digitize materials that accurately document, preserve, and communicate Rutgers–Newark's historical record, spotlighting Rutgers–Newark's role and impact in Newark as an anchor institution and influencer in the community.
Scope of the Collections
The bulk of RU-NA legacy materials were created by administrative and academic departments of the Rutgers University–Newark campus, including some documents dating back to the early twentieth century from legacy institutions Dana College and Newark Institute of Arts and Sciences.  Holdings consist primarily of materials published by campus agencies, authored by campus faculty and administrators, or other published materials where the campus is the subject.  The kinds of documents held include but are not limited to master plans, architectural plans, annual reports, faculty research, course catalogs, student directories, photographs, yearbooks, periodicals such as the Observer student newspaper, event programs, posters, flyers, and other ephemera.  Following University policy, all University records with historical value will continue to reside at the Rutgers University Archives in Alexander Library in New Brunswick, NJ.
The bulk of archival materials fall into three groups:
Administration: Budget requests, strategic plans, annual accountability reports, historical directories, handbooks for faculty and students respectively, course catalogs, academic program guides, newsletters
Faculty: Public-facing scholarship featuring conference proceedings, historical journals, newsletters, magazines    
Student publications: Year books, magazines, newspapers, scrapbooks
Plan Your Visit
Rutgers University–Newark Archives are located on the 4th Floor of Dana Library.  The archive materials may be accessed in person by Rutgers faculty, staff, and students by appointment. Schedule an  appointment with the archivist, Angela Lawrence, via email: angela.lawrence@rutgers.edu, or by phone:  973-353-3797. Researchers are also welcome to schedule a virtual consultation with the archivist.
Collection Highlights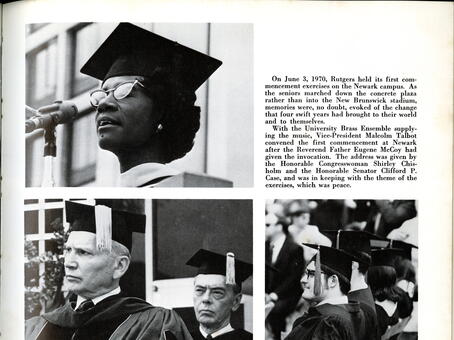 Encore student yearbook
Encore student yearbook, 1971.  Shirley Chisholm was the first African American woman elected to the United States Congress.  She represented the 12th congressional district of New York in Brooklyn for seven terms, 1969 to 1983.  In 1970, Chisholm spoke at the first commencement exercise held on the Rutgers-Newark campus.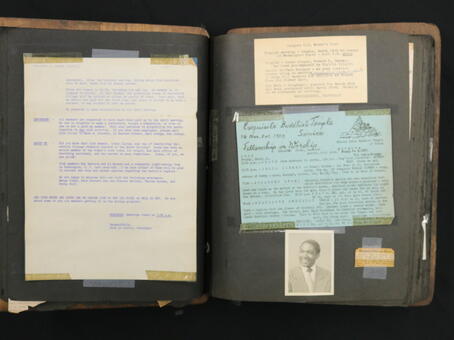 Scrapbooks
Rutgers University College Women's Club scrapbook, 1948-1963. This scrapbook documents over two decades of social activities organized by The Women's Club of Rutgers University College, Newark. The pages contain news clippings, events calendars, and event flyers.