Apply for OAT Program Awards Now!
Universitywide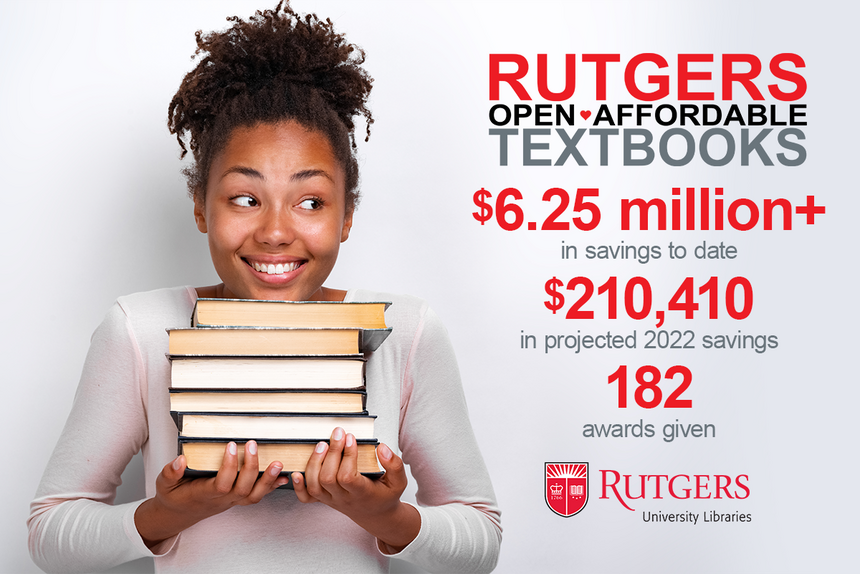 Rutgers University Libraries' Open and Affordable Textbooks (OAT) Program has saved students more than $6.25 million to date. OAT is an incentive program that awards research funds to Rutgers faculty who either redesign their courses for affordability or develop new open textbooks. All Rutgers faculty are encouraged to apply and help the Libraries reduce the barrier of textbook affordability for even more students. Applications for OAT funding are open now through April 19, 2023, for the OAT Program Awards and May 17, 2023, for the OAT Authoring Awards.
OAT Program Awards
The OAT Program awards $1,000 in research funds to full- or part-time faculty/instructors or curriculum developers at Rutgers who make their courses more affordable through low-cost materials, library content, or open educational resources.
Using open educational resources (OER) in your teaching is an impactful way to provide equitable access to learning materials, ensuring that all your students have a fair chance at meeting their academic goals and removing financial barriers that disproportionately affect students in marginalized groups. These resources also give you more control over your course content and enhance the student experience by allowing you to incorporate a broader, more diverse set of ideas and perspectives into your teaching.
Learn more about the OAT Program Awards here.
Deadline: Extended to April 19, 2023
OAT Authoring Awards
In addition to the course redesign awards, we offer $3,500 research fund awards to Rutgers faculty who create and develop a completely new open educational resource (OER) textbook by writing, developing, and creating the textbook and any relevant supplemental materials. Open textbooks are licensed by authors and publishers to be freely used and adapted. The award proposal should demonstrate a direct benefit to Rutgers courses, programs, and departments.
Learn more about the OAT Authoring Awards here.
Deadline: May 17, 2023
Apply Today!
For more information or to apply, please visit the OAT Program website at libraries.rutgers.edu/open-textbooks.