Perrone Awarded Roger McDonough Award
New Brunswick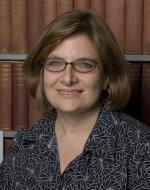 Archivist Fernanda H. Perrone has been awarded the 2021 Roger H. McDonough Award, sponsored by the New Jersey Studies Alliance (NJSAA), the Mid-Atlantic Regional Archives Conference (MARAC) NJ Caucus, the New Jersey Library Association (NJLA) History & Preservation Section, and the New Jersey Historical Commission. The award recognizes her leadership as an archivist, librarian, and curator for the benefit of Rutgers University and the State of New Jersey.
Perrone, archivist and head of the exhibitions program for Special Collections and University Archives, Rutgers University–New Brunswick, is also the curator of the William Elliot Griffis Collection. She has been an archivist at Rutgers for more than 25 years and head of exhibitions since 2003. She arrived at Rutgers in 1992 to work with manuscript collections at Rutgers after receiving her Ph.D. from Oxford. Dr. Perrone attended the Rutgers School of Communication, Information and Library Studies (MLS 1995) where she decided to pursue archives as her profession.
Perrone has had a significant impact on New Jersey studies with her publications, lectures, exhibits, workshops, teaching, and work on New Jersey History Day. She shares her historical research and information about Rutgers' collections via speaking engagements for community organizations, schools, and religious groups throughout the state. Among the topics covered are education, women, religion, and slavery in New Jersey.
Active in many professional organizations, including MARAC, NJLA, NJSAA, and the Society of American Archivists, Perrone is a perennial speaker at professional conferences. She has won numerous awards including the MARAC Service Award, New Jersey History Day Educator of the Year, and the Catholic Library Association Brubaker Memorial Award. In addition, she has provided leadership and vision, winning support for archival exhibitions and collaborative research projects in New Jersey studies.  She genuinely believes in education, the importance of scholarship, and values the people around her.
Fernanda is in good company as she joins previous winners of the McDonough award from Special Collections and University Archives. These include Thomas J. Frusciano (2017), Ronald L. Becker (2015), Janet T. Riemer (2014), and Bonita Craft Grant (2011).
The New Jersey Studies Academic Alliance was founded to encourage the teaching of New Jersey studies and to help teachers to more efficiently and thoroughly present the study of the state to their students. The award is named for Roger H. McDonough, New Jersey State Librarian from 1947 to 1975. Beginning in 2002 the NJSAA, along with the New Jersey Historical Commission, Mid-Atlantic Regional Archives Conference New Jersey Caucus, and the New Jersey Library Association History and Preservation Section, has given an award to a librarian or archivist or manuscript curator for excellence in service to the New Jersey history research community and/or the general public.
Please join us in congratulating Fernanda!