Spring 2023 Stressbusters at Robeson Library
Camden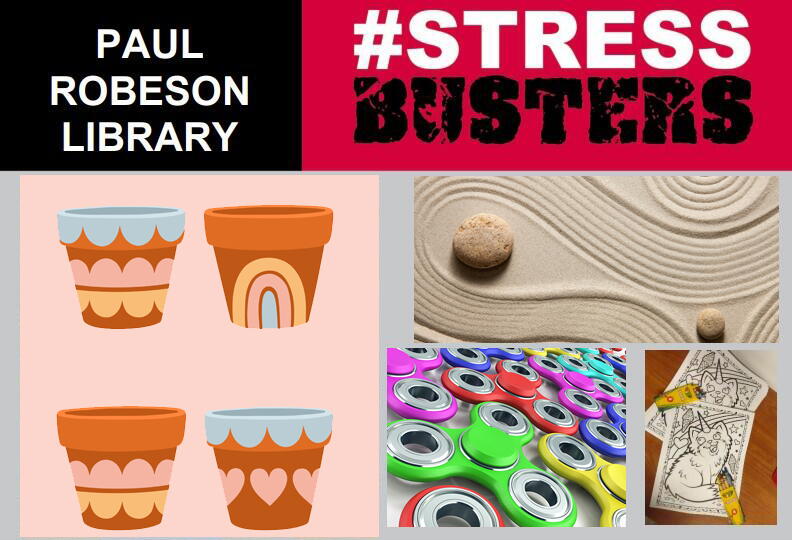 Take a break and de-stress during finals week with relaxing activities at Robeson Library! Stop by our sensory study room, decorate your very own flowerpot, and be sure to visit our free snack cart.
The Robeson Library stressbusters schedule is as follows:
Mini-flowerpot decorating, Thursday, May 4 | 11 a.m. – 1:00 p.m. | Bring your imagination, we'll provide the mini-flowerpot and seed packets!
Grab & go coloring pages, Friday, May 5 | 11 a.m. - 1 p.m. | Finals got you blue? Color the stress of finals away (crayons provided)
Zen garden workshop & prize wheel-palooza, Monday, May 8 | 11 a.m. - 1 p.m. | Try your hand at building a relaxing Zen garden, then spin the wheel at Robeson Library for some great prizes! Supplies are limited, so RSVP to reserve your spot.
Scratch kit crafts, Tuesday, May 9 | 11 a.m. - 1 p.m. | Unleash your inner artist and make one-of-a-kind designs with our scratch kits
Button making, Wednesday, May 10 | 11 a.m. – 1 p.m. | Use our button maker to make the perfect pin to wear to your last final
FREE SNACKS! Refuel with a treat at 11 a.m. & at 6 p.m. every day during finals
SENSORY ROOM: Stop by study room 218 to engage your senses with a collection of fidget toys and other sensory items, brought to you by the Library Student Advisory Board.
And for more relaxing diversions -- including puzzles, games, animal cams, museum tours, and more -- be sure to check out our online stressbusters page.