Open and Affordable Textbooks
The Open and Affordable Textbooks (OAT) Program is an incentive program that awards research funds to Rutgers faculty who make their courses more affordable for their students by using low-cost materials, library content, or open educational resources (OER). To date, the program has saved Rutgers students an estimated $6.0 million. Our goal is to support course material affordability at Rutgers, promote the use of open and affordable educational resources, and empower faculty to innovate their teaching through the use of open, free, or library-licensed materials and teaching aids.
The OAT Program awards research funds to full- and part-time faculty and curriculum developers who:
Adopt: Replace a traditional textbook with a free, low-cost, or open alternative
Innovate: Replace a traditional textbook with articles, book excerpts, audio, or video that are licensed through Rutgers University Libraries, open access, or freely available online
Create: Replace a traditional, high-cost textbook with one that they will design, author, and provide for free or at low cost to students
Enrich: Augment a course that currently uses open and affordable materials through the addition of significant supplementary learning and/or instruction materials.
Partners
We are thankful for the collaboration and support of the students and organizers in NJPIRG. Read about their textbook affordability efforts.
We extend special thanks to William P. Keane and Rebecca A. Keane for their generous sponsorship of two awards.
Please contact the office of the Vice President of University Libraries and University Librarian (848-932-7505) if you are interested in learning more about OAT Program sponsorship opportunities.
Contacts
Rutgers Biomedical and Health Sciences
Matthew Bridgeman, Information and Education Librarian, Robert Wood Johnson Library of the Health Sciences
Rutgers University–Camden
Zara Wilkinson, Reference/Instruction Librarian, Paul Robeson Library
Rutgers University–New Brunswick
Lily Todorinova, Undergraduate Education Librarian, Open Educational Research, Douglass Library
Laura Palumbo, Chemistry & Physics Librarian and Science Data Specialist, Library of Science and Medicine
Rutgers University–Newark
Bonnie Fong, Physical Sciences Librarian/Interim Information Literacy Coordinator, Dana Library
Media Inquiries
Matt Badessa, Public Relations Specialist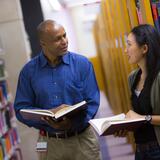 Subscribe to the OAT mailing list
Keep up with the latest about the program and make sure you don't miss application dates.