Accessing the Libraries Collections During Temporary Remote Learning
Universitywide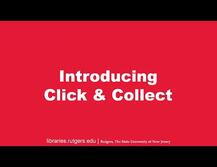 The university operating status has been modified due to significant increases in statewide COVID-19 case counts over the holiday season. During this time, access to physical library collections is only available via contactless services. These contactless access methods, click and collect, personal delivery, and HathiTrust's Emergency Temporary Access Service (ETAS) will be available at the libraries through January 30th. As always, all of the electronic content in the Libraries' collection – eBooks, databases, streaming media and more - is available for your use 24/7. Search across all of the Libraries print and electronic collections using QuickSearch.
The Libraries stand ready to support the university community during this period of temporary remote learning as we recognize that access to our physical collections is an important component of the research and learning experience. Our click and collect and personal delivery services allow Rutgers students, faculty, and staff to access physical materials in the Rutgers collections, while in addition to the Libraries' robust collection of electronic content ETAS provides online access to more than 1.2 million volumes that the Libraries hold in our print collections.
Click and Collect, our version of curbside pickup, is a little- or no-contact method for retrieving requested materials at the libraries. Submit a request through QuickSearch and you'll receive an email when your items are ready with information for booking a pickup time and other location-specific instructions. Learn more about click and collect here.
Personal Delivery is an alternative option for users who are not able to retrieve their materials on campus. Select "Personal Delivery" in QuickSearch, confirm your mailing address with us, and we will have the items shipped directly to you. Learn more about personal delivery here.
ETAS is electronic access, provided by Hathi Trust to its partner institutions, to digitized materials found in our print collection. These materials represent approximately 45% of the Libraries' print collection and are in addition to the more than 6 million public domain and Creative Commons-licensed works already accessible through HathiTrust. For more information, including instructions for accessing ETAS books on your mobile device, see https://www.hathitrust.org/ETAS-How-To
Rutgers users can search for these titles in QuickSearch or the HathiTrust Digital Library. Books available through this service include a note indicating temporary access and require NetID login to be accessed by Rutgers students, staff, and faculty. "Temporary Access" books can be checked out for one hour and will automatically renew as long as you are actively reading it. If the book you want is currently checked out, a message will display letting you know that the title is in use. Check back later to see if the book has been returned. Unfortunately, it is not possible to request or place a hold on a book. Because access is limited, users are encouraged to return books as soon as they are done using them. "Temporary Access" books will only be available online until access to the Libraries' print collection is restored.
Learn more about HathiTrust Emergency Temporary Access Service here.
In addition to these access modes, Interlibrary Loan continues to be available to provide access to physical materials from our partner libraries. As libraries in our networks may also be experiencing increased delays due to COVID-19, users may experience delays when using interlibrary loan.
Learn more about Interlibrary Loan here.
Please visit the Rutgers University Libraries' website at www.libraries.rutgers.edu to learn more about our online and remote services, including access services, reference and consultation services, and building hours for those libraries open for study space.