Special Collections in the History of Medicine
Rare Books and Journals
All book collections are cataloged in QuickSearch. The rare books stored in Special Collections do not circulate. Non-flash digital photography is permitted with the approval of the department.
The Morris H. Saffron Collection and Rare Books
In 1978, the Academy of Medicine of New Jersey officially presented the contents of its library to the College of Medicine and Dentistry of New Jersey. This donation included an outstanding collection of rare and antiquarian medical books. The collection was named the Morris H. Saffron Collection of Books on Historical Medicine in honor of Dr. Saffron, a former Academy president and Library Chair. Dr. Saffron was instrumental in influencing the Academy to donate its collection.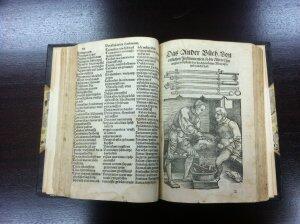 In 1980, the Saffron Collection was described in a published catalogue:
The Saffron Collection's 528 volumes form the core of an expanded rare book collection focused on pre-twentieth century medical publications. The collection's strengths include surgery, botanicals and herbals, obstetrics and gynecology, domestic medicine, anatomy, radiology, and neurology and neurosciences. In addition to English, the collection contains works in Latin, Greek, French, Arabic, German, Spanish, and Italian.
New Jersey History of Medicine Collection
A special collection of materials related to the history of the health sciences in New Jersey is housed in the Barbara Manisty Peck History of Medicine Room. This non-circulating collection includes reference sources, indices, and works about or by physicians, nurses, dentists, and others involved in the state's medical history. Histories of pharmaceutical companies in New Jersey and professional organizations are also present.
The New Jersey History of Medicine Collection also includes: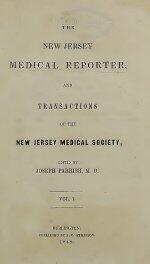 Books, trade catalogues of medical/dental supplies, biographies, manuals, hospital histories, organizational histories, and all related materials
Dissertations concerning New Jersey medical history
Biographies of New Jersey physicians, nurses, and dentists
Selected literary works by significant New Jersey physicians and dentists
Pamphlets (catalogued or stored in the vertical files)
Special issues of periodicals dealing with the health sciences in New Jersey
Histories and annual reports of hospitals and health-related institutions and organizations
Information and finding aids for topics related to New Jersey's medical history at other repositories
Aaron E. Parsonnet Cardiology Collection
Dr. Arthur Bernstein presented the Aaron E. Parsonnet Cardiology Collection on the history of cardiology to UMDNJ in 1982.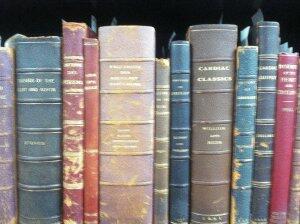 Dr. Parsonnet (1889-1950) was the first recognized cardiologist in Newark. He was also a skilled bookbinder and restored many of the books in this collection. The collection is classified and housed in the History of Medicine Room as a discrete non-circulating collection.
Dr. Morris H. Saffron donated letters written to Dr. Parsonnet in the 1920's by leading American physicians, also in 1982. They are located in PC/3, New Jersey Medical History Manuscript Collections.
Classics of Medicine Library and Classics of Surgery Library
Books in the "Classics of Medicine" and "Classics of Surgery" series published by Gryphon Editions are shelved as a discrete collection. Many were acquired by donations from Dr. Morris H. Saffron, Dr. John H. Siegel, and Dr. Benjamin F. Rush.
Volumes stored in Special Collections are non-circulating.