About Stephen and Lucy Chang
Stephen Chang (1918 – 1996)
Dr. Stephen S. Chang was a distinguished educator, researcher, and inventor. He was renowned for his outstanding contributions to the field of food technology and his work on flavors and lipids. He was awarded the highest award in lipid research, the American Oil Chemists' Society's Lipid Chemistry Award, and the most prestigious award in food technology, the Nicholas Appert Award from the Institute of Food Technologists. Dr. Chang was the only person to receive both awards.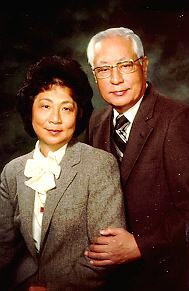 Stephen S. Chang was born in China in 1918. He arrived in the United States in 1947 and later became a naturalized American citizen. Chang received his undergraduate degree from National Jinan University of Shanghai (1941), an M.S. degree in Organic Chemistry from Kansas State University (1949) and a Ph.D. in Food Science from the University of Illinois (1952). After spending several years in industry, he joined the faculty of Rutgers Food Science Department in 1960 and served as Chair of the Department from 1977 to 1986. He was presented with the Rutgers Board of Trustees Award for Excellence in Research in 1984 and the Rutgers University Award and Medal upon his retirement in 1988. Dr. Chang published over 100 articles, book chapters, and other works and was inventor or co-inventor of 15 patents. Dr. Chang and his wife, Lucy Ding Chang, established awards at the American Oil Chemists' Society and the Institute of Food Technology.
Following his retirement, Stephen S. Chang continued to serve as a consultant to the food industry and an active supporter of international technology transfer. He was instrumental in the dissemination of food science information to mainland China and Taiwan. In recognition of this work he received the International Award from the Institute of Food Technologists and a special commendation from the Prime Minister of the Republic of China in 1989.
As generous benefactors of higher education, Stephen and Lucy Chang established several scholarships and endowed the Stephen and Lucy Chang Science Library.
Lucy Chang (1923 – 2013)
Born in China, Lucy Chang received a bachelor of science degree in chemistry from Hwa Nan Women's College in China. She received her D.D.S. degree from the University of Missouri in Kansas City. After marrying Stephen Chang in 1952, she served within the chemistry department of the University of Illinois and later joined the American Meat Institute Foundation. Thereafter, she devoted much of her time and energy assisting her husband in establishing his career. Dr. Chang has a strong family tradition of academic achievement in higher education. Her aunt served as president of Hwa Nan Women's College. Her father was the President of the Anglo-Chinese College in Fuzhou, China for 20 years. Dr. Chang established fellowships and donated to the construction of education buildings at both colleges. She received a gold medal award from the Fuzhou Provincial Government for her service and philanthropy. She also served as the President of the North American Alumni Association for her alma mater.