Benevolent Patriot: Henry Rutgers, 1745-1830
by David J. Fowler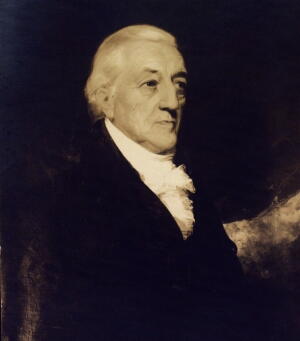 Photograph of oil portrait by Henry Inman (1801-1846) hanging in the Old Queen's building at Rutgers University in New Brunswick, New Jersey. Photograph by Nick Romanenko, Office of University Relations.
[This is a revised version of an essay that originally appeared in the catalog accompanying the exhibition Benevolent Patriot: The Life and Times of Henry Rutgers, February 15-July 30, 2010, Special Collections & University Archives, Archibald S. Alexander Library.]
In early September 1776, Henry Rutgers, the scion of a prominent Dutch-American family, mounted his horse and rode "with a slow step, and an anxious state of mind" across the fields of his father's farm on the East River in Manhattan. As he rode off, he "contemplated my … present situation, and my future prospects." Recent events justified his trepidation. The British army was hard on his heels. Rutgers had been with the American army as a volunteer when it evacuated Brooklyn Heights after the defeat at the battle of Long Island on August 27. Worse, his younger brother Harman was among the first in that engagement who "fell in the Field fighting for the Liberties of his Country." Rutgers returned briefly with the American army to the city, and then was ordered to join the retreating rebels at Harlem Heights. He left aged parents, who had already fled to Albany, as well as property in New York City worth more than that of any other patriot. Shortly after his departure, the "mark of confiscation" was placed on the Rutgers house, which was then occupied by the enemy for the next seven years.[1]
The seventh child of Hendrick Rutgers (1712–1779) and Catharina De Peyster (1711–1779) was born on October 7, 1745 and baptized Hendrick in the Reformed "New Church" on Nassau Street in New York City. His mother belonged to one of the most prominent families in New York. The progenitor of the American branch of the Rutgers family was Rutger Jacobse (d. 1665), who emigrated in 1636 from the village of Schoenderwoerdt in the Netherlands to Fort Orange (Albany) in the colony of New Netherland. The family established itself in New York City around 1690, when Henry's great-grandfather, Harmanus (Harman) Rutgers, relocated there from Albany.[2]
The basis of the family's wealth was in brewing, a craft that required experience handed down through generations. During the eighteenth century, there were at least two breweries in New York City operated by different branches of the family. They found a ready market: alcoholic beverages were, after textiles, the most popular and economically important consumer good in early America. And the brewery's proximity to the urban waterfront meant that there was no lack of customers. Because of their long tradition over four generations as brewers, the Rutgers family has been deemed "the first of the 'brewing families' in America." Even as an octogenarian, Henry Rutgers still felt that beer and porter were "nourishing fluids, which will not injure any man."[3]
The family soon rose to prominence in the affairs of the Anglo-Dutch city. Because of their affluence, Rutgers men naturally achieved the coveted status of freeholder or freeman, which allowed them to vote and to hold offices such as alderman, assessor, assistant, coroner, or militia officer. As such, they were intimately involved in "the localist tendencies of public life." In 1735, Harmanus Rutgers (Hendrick Jr.'s grandfather) served as a grand juror in the precedent-setting libel trial of John Peter Zenger. By the time of his death in 1753, "Captain" Harmanus Rutgers was deemed "a very eminent Brewer … and a worthy honest Man."[4]
The New York City that Hendrick Jr. was born into was a colonial port town of approximately 12,000 people on the periphery of a global empire. The mid-eighteenth-century city where he was reared was a relatively compact triangular space comprising perhaps six thousand yards on each side and four thousand yards across the northern apex. It was indeed a "face-to-face-society" where most people knew one another. Business was conducted in coffeehouses, taverns, public markets, or in the streets. The city's major port facilities were situated on the East River to the south of the Rutgers property. The waterfront was the commercial lifeline of the city and the place where much social interaction took place. It bustled with the activity of seagoing and coasting vessels of all sorts, lighters and other small craft shuttling back and forth on the river, fishermen and oystermen following their callings, and cartmen plying their trade in the streets.[5] The riverfront was also a noisy, dirty, unhealthy, and sometimes dangerous place.
The maritime district spawned several ancillary occupations such as ship chandlers, coopers, carpenters, joiners, sailmakers, and ropemakers. Many of the waterfront area's residents were employed in these endeavors. Because of disruption, noise, and "Noisom Smells," most of the city's manufacturing enterprises—tanneries, breweries, distilleries, slaughterhouses—were relegated to areas north of Wall Street. In the 1760s two ropewalks, which were sheds or alleys hundreds of feet long where cable and hawser were twisted and tarred, flanked the Rutgers farm along Division Street and along its northern boundary.[6]
Hendrick Rutgers Sr. had been apprenticed to a merchant, but in 1753 he inherited the East River plantation that in succeeding years became known as the "Rutgers Farm." The property was located in the Bowery division of the city's Out Ward, a sprawling tract that for decades maintained a rural character of hills, fields, gardens, woods, and marshes. Rutgers soon built a house there "with bricks brought from Holland," which formed the basis of the later Rutgers mansion. At some point he also established a brewery on the farm. Since the Rutgers farm fronted on the East River, the family could also capitalize on related maritime pursuits. In 1772 the New York City Common Council, which owned rights to "land under water," granted water lots to Hendrick Sr., which would be exploited by his heirs.[7]
As early as 1755 part of the Rutgers farm was laid out in lots, which was a shrewd economic move that both facilitated division among the heirs and anticipated future development. By 1764 when his parents gave eighteen-year-old "Hendrick Rutgers Junr" several lots, the farm had been subdivided into at least 600 numbered parcels. Actual development, however, proceeded slowly and intermittently. Similarly, James De Lancey also had a development strategy for his subdivision adjacent to the Rutgers property. Over time, improvements were made to the Rutgers farm so that by the 1770s it consisted of twelve buildings and eighty acres, which included the old farmhouse on Bowery Lane, the new mansion, a brew house, a malt house, a mill, a stable, and other buildings.[8]
Nothing is known of Hendrick Jr.'s upbringing, but it was probably typical of young gentlemen of the time. In contrast to members of the mercurial merchant class who often had to "buy their way into gentlemanly status," he was fortunate in that his family's solid affluence assured his social position. When he reached adulthood, Hendrick's right to append "Esq." or "Gent." to his name would not have been questioned. The Rutgers family was part of the "bewildering web of marriages" characteristic of colonial gentry; in addition to his mother's De Peyster family, the Rutgerses were related by marriage to several other leading families of colonial New York, such as Bancker, Bedlow, Beekman, Clarkson, Gouverneur, LeRoy, and Philipse. One observer quipped that among the Dutch "Cousins in the fifteenth degree are looked upon as nearly related."[9] Throughout his adult life Henry Rutgers strove, not always successfully, to maintain family harmony.
At least one source of family discord was Hendrick Jr.'s brother Harman. In 1770 Harman matriculated at his brother's alma mater, King's College, but left in his second year. Even though Harman was in his mid-twenties when his father made out his will in 1775, the latter stipulated that his youngest son's inheritance was to be held in trust and doled out annually by Henry and his four sisters: "If the Trustees … shall think it prudent to trust my son Harmanus with any small sums of money they may do so, but I desire that they will be careful and sparing in that respect, lest he should misspend the same." In addition to his irresponsible nature, in 1773 Harman had likely merited disapproval by marrying Dorcas Tibbets, a woman of obscure background who was not Dutch and who was possibly regarded as beneath his station.[10]
The younger Hendrick was no doubt instructed in management of the farm where barley was grown for the brewery, as well as in the brewing process. At some point, either formally or informally, he acquired a proficiency in surveying, as well as a practical knowledge of architecture and construction. He would also have learned how to manage workmen, servants, and slaves, several of whom were owned by his father and worked at the brewery. Slaveholding was common among Dutch Americans. During the 1741 New York City slave uprising, another Rutgers family member had had three of his slaves convicted of conspiracy—one was hanged, one burned, and one transported. And John Hughson, the white man who allegedly incited the slaves, may have been gibbeted on the shoreline of the Rutgers property "at a place commonly called Hughsons Point." Like his father and grandfather before him, Henry Rutgers would himself own slaves.[11]
As a young adult, Hendrick's spiritual mentor was reputedly Rev. Archibald Laidlie, a Scot who was brought from the Netherlands in 1763 to preach in English at the Dutch Reformed church in New York City. Commentators noted that by the mid-eighteenth century, the Dutch in colonial New York were beginning to lose their language and their distinctive culture. They had to function in a political, social, commercial, and legal world that after 1664 was dominated by the English. One manifestation of this transition was a serious rift within the Reformed congregation over praying and preaching in English. By 1770, the city was a pluralistic religious marketplace where thirteen different Protestant denominations competed for members.[12] Together with the general acculturating trend among younger Dutch Americans, Reverend Laidlie may have influenced Hendrick Jr. to anglicize his name to "Henry."
For whatever reason, by 1763 when he matriculated at the Anglican, royalist, elitist, and expensive King's College, he was "Henry Rutgers." The young scholar was exceptional for the time in that he attended college. In 1766 he graduated with an A.B. degree and then commenced, at age twenty, the management of his father's business. Rutgers was part of a generation that experienced a seismic shift in allegiance from an overseas monarchy to a homegrown republic. The process by which he became imbued with radical Whig ideology is unclear; in the mid-1760s he may have been influenced by the Sons of Liberty led by the "radical triumvirate" of John Lamb, Isaac Sears, and Alexander McDougall. In contrast to others of the "better sort," Rutgers demonstrated sympathy for populist causes throughout his public life. He was listed as a freeholder in the city elections in 1769. He first entered public life in 1775 when he was appointed tax assessor for the Out Ward.[13]
Many of his fellow citizens, however, maintained their loyalty to the Crown. The King's College governors, faculty, and alumni were preponderantly loyalist in sentiment. The majority of merchants who comprised the New York Chamber of Commerce, which represented the city's commercial elite, also had "decidedly Tory leanings." Thomas Jones, a state supreme court justice who lived on nearby Mount Pitt, was one of the most prominent New York loyalists, as was the Rutgers family's neighbor to the west of Division Street, James De Lancey. In general, the counties in southern New York surrounding the city were strongholds of loyalism.[14] Henry Rutgers, therefore, was definitely going against the trend of his peers.
So when thirty-year-old Henry Rutgers took that anxious ride across the Rutgers farm in late summer 1776, he had much to lose. Since social status and rank in the army went hand-in-hand, it is not surprising that shortly after the battle of Harlem Heights, Rutgers was listed as a lieutenant "fit for duty" in the "N. levies" (i.e., new levies, or recruits) under Col. William Malcom. He was present on October 28 at the battle of White Plains with "the little disheartened band" of Americans who were saved from a nocturnal bayonet attack by a nor'easter that providentially delayed the enemy.[15] White Plains was apparently his last combat experience.
In 1777 Gen. Israel Putnam, who commanded posts on the Hudson River, appointed Rutgers a "deputy muster master" of the army. For the remainder of the war he acted in an administrative capacity in recruiting and mustering troops. While not glorious, the task of a muster master was crucial to the war effort: in order to conduct campaign operations, to garrison towns, forts, and other posts, and to assess state quotas for troops and supplies, the commander-in-chief had to know how many "effectives" (i.e., men fit for service) that he actually had. In 1776, Gen. George Washington argued that without accurate troop returns, "it is impossible that the business of an Army can be conducted with any degree of regularity, or propriety," and he enjoined "the utmost importance to be frequently certified of our whole strength and Stores." No doubt in recognition of both his social status and his patriotism, the first state legislature that met in Kingston in September 1777 appointed Henry Rutgers a representative for the city and county of New York. He excused himself because of his military responsibilities, however, and consequently his seat was declared vacant.[16]
The task of a muster master was not without its aggravations and rigors. Officers were tardy or careless in submitting timely returns of their units in the prescribed form. Rutgers's circuit included posts in the Hudson Valley, such as New Windsor, Fishkill, Peekskill, and West Point, and sometimes points beyond. In one instance, troop movements required that he undertake an arduous ride of fifty miles in the dead of winter. His attention to duty was recognized by his superior, Lt. Col. Richard Varick, who in January 1779 recommended him to John Jay, President of the Continental Congress, to fill a vacancy in the Continental army's Commissary General of Musters Department. Consequently, on April 6 Congress appointed Rutgers a "Deputy Commissary General of Musters" with the rank of lieutenant colonel.[17] He had now graduated to the level of a Continental staff officer. But 1779 also saw three great personal losses: his parents died in Albany ("that melancholy event"), as did his mentor Rev. Archibald Laidlie, who was in exile from his parish.[18] These losses, added to his brother's death in 1776 and the precarious situation of the family birthright, must have weighed heavily on his mind.
Despite his promotion, the frustrations of the position caused Lieutenant Colonel Rutgers to lament at one point: "I am wasting … time in pursuit of what will only serve the present, and be of no real advantage to me in future." But he took solace in the fact that "I have bestowed my mite towards the salvation of my country." In an effort to economize, moreover, in late 1779 Congress decided to merge the functions of Rutgers's department with that of the newly created Inspector General's department under the command of Major General Friedrich Wilhelm von Steuben. As a result, by January 1780 Rutgers and several of his fellow-officers were "deranged," i.e., without a position in the army. This state of affairs occasioned one of Colonel Rutgers's more caustic outbursts:
Most people who know anything of the Nature of the Department are amazed at the Stupidity of the Measure …. Perhaps some of the members of Congress had friends out of employ & the good natur'd Baron had promised to shoulder them forward in his new fangled Department. Thank fortune and the … Congress I am now disengaged …. I shall enjoy the consolation of being secure from the Capricious decrees of Congress. I have little expectation of … succeeding in getting our subsistence paid us … or even our extra expenses …. Good Heavens! Is this the virtuous C__ the Body that excited the admiration of the world? How are the mighty fallen? Take a general View of their conduct, and all appears to be going wrong ….
As to his future, Rutgers determined "to now retire to some secure retreat … until more prosperous times put's me in possession of my Estate now in the hands of the Enemy." And in contrast to the niggling of Congress, he hoped that "the fruitful fields no doubt will amply repay my labour."[19]
But Henry Rutgers was not to return to civilian life just yet. Thanks to the good offices of Gov. George Clinton, on July 1, 1780 he was appointed a "Lieut. Colonel in the Levies" and thus was back in the role, on the state level, of overseeing recruiting. Clinton's patronage provides an example of the importance of "connexions" in late eighteenth-century society. Around this same time Clinton also appointed Rutgers a commissioner to cosign a new emission of paper money; his compensation was to be a quarter-dollar for every one hundred bills he signed. The war years were not totally taken up with business, however. There were occasions for socializing with family and friends—or for giving advice to a young nephew. In November 1782 he wrote to "Master Henry Bancker," who was in school in Albany, and encouraged him to learn surveying and navigation. Rutgers even offered to loan his "case of Mathematical instruments" and related books, but added an avuncular admonition: "The instruments you must be very carefull of, as they are costly, and none to be had at this time." Uncle Henry also forecast that after this winter, "I am in hopes we shall be at New York"—prophetic words, as it turned out.[20]
Henry Rutgers's native city had endured a long ordeal of enemy occupation. Shortly after the British arrived in September 1776, a fire—either accidentally or deliberately set—devastated a large portion of the lower city, including an iconic part of the skyline, Trinity Church. Another fire in August 1778 wreaked similar destruction along the waterfront. The Rutgers farm was ringed with defensive artillery emplacements originally built by the American army. The Royal Navy had commandeered the East River shipyards immediately south of the farm.[21]
In 1778, the British made a ward-by-ward assessment of the property of New Yorkers who fled the city. The Rutgers property was valued at £80,000, an enormous sum for the time and worth far more than that of any other city patriot who was "in actual rebellion." Throughout the war, enemy forces were garrisoned along the East River in the vicinity of the farm. In October 1779, for instance, the German Bayreuth Regiment camped "near Corlears hook," which was on the river a little to the north of the property. The old Rutgers farmhouse in Bowery Lane was rented out for £5.[22] During the occupation the city's population ebbed and flowed based on troop movements, the arrivals and departures of fleets, and loyalists who sought refuge there.
At various times during the occupation, the Rutgers mansion was apparently used to quarter officers, as a barracks, and as a hospital. Part of the brew house was used as a kitchen for the "Hessian hospital," which indicates that the nearby mansion may have been used as a hospital. In July 1779 the kitchen was moved to another building "much nearer the hospital," and the brew house and an adjoining stable were then used as a depot for naval stores. Bodies of Hessian dead were likely buried on the Rutgers farm. Occupying forces no doubt despoiled the property. Crops were trampled, gardens ruined, and orchards and woodlots were cut and buildings and fences pulled down for firewood. The winter of 1780, in particular, was one of the most severe in memory. While American troops suffered in Morristown, thousands of British, German, and loyalist troops shivered in their cantonments in New York. One late casualty of the war was the Rutgers brewery, which was burned, either by accident or by arson, shortly before the British evacuated. It was apparently never rebuilt.[23]
When the American army retook possession of New York on November 25, 1783 (Evacuation Day), they inherited a city in ruins. The population had declined from a prewar figure of approximately 25,000 to a mere 12,000. Many still lived in "Canvas Town," where sailcloth was used to cover ruined and fire-damaged buildings. The New York City Common Council soon established a committee on wartime losses. Some of those left behind were an undesirable element: "idle wicked and dissolute persons" committed "frequent Robberies Thefts & violent Breaches of the Peace." In addition, there were "other abandoned Vagrants and Prostitutes whom the ordinary process of justice hath not awed nor reclaimed." The British left other more macabre reminders of their presence: in 1785 and in 1788, bodies were found buried in Catherine Street on the southern boundary of the Rutgers farm. They were exhumed and reinterred elsewhere.[24]
After the war, Henry Rutgers returned home and proceeded to assess and to recoup his losses at the "Rapacious hands" of the enemy, and to settle his late father's estate. It is unclear if he was with General Washington and Governor Clinton on November 25 when they made their triumphal procession from the Bull's Head Tavern on Bowery Lane into the liberated city; if not, he arrived shortly thereafter. No doubt in recognition of both his social status and his wartime service, in December 1783 a "general meeting of the Committee of Mechanicks" nominated Henry Rutgers and former Sons of Liberty John Lamb, Isaac Sears, and Marinus Willett as a slate of candidates for the assembly. They won in a landslide, the former refugees and army veterans no doubt cowing any opposition—it must have been sweet revenge. Rutgers thus attended the Seventh Session of the assembly that met at City Hall in New York between January and May 1784. His wartime losses at the hands of the British probably influenced him to vote in favor of a punitive five percent impost on all imports from the British West Indies.[25]
In 1784 Rutgers also found it necessary to petition the Confederation Congress on behalf of himself and two fellow-officers who had been deranged from the muster-master department in 1779 for their arrears of pay and year's advance of salary that they felt was due them. Congress instead recommended to the governor of New York in June 1785 that the state settle with them for the value in specie, and charge the amount to the United States. Not until April 1786, however, did the state assembly pass "An act for the relief of Henry Rutgers, and others." Certain issues still remained unresolved, because in August 1787 Rutgers again petitioned Congress for redress. Consequently, in February 1789 the state legislature passed another law regarding the claim.[26]
Along with his patron George Clinton, Rutgers espoused an antifederalist platform. As such, he was in a minority in Federalist-dominated New York City, and was even snubbed in Federalist social circles. Richard Varick, his former superior officer in the Continental army and mayor of New York in 1789, for example, was a leading Federalist. Rutgers ran for assemblyman in 1788 on the antifederalist ticket, but was defeated when the Federalists swept the election in the city. In 1794 the Democratic Society of New York, which advocated Jeffersonian principles, was founded. Henry Rutgers was elected a vice president, and the following two years he served as the organization's president. He was part of the "Republican Whig" state assembly ticket for the southern district in April 1796 that lost to the Federalists over Jay's Treaty and other issues. His involvement in the Democratic Society may explain why, although he was eligible, he was apparently not a member of the Society of the Cincinnati, which was an elitist, hereditary, and controversial fraternal organization of former Continental army officers. In the mid-1790s Rutgers was also a governor of the New York Hospital.[27]
Like other citizens of the new nation, Rutgers had to weather the postwar depression of the 1780s. In early 1785 he advertised his "Seat … near Corlears-Hook" for rent as "one of the most agreeable and convenient Villas in the suburbs," which may indicate that he was in straitened circumstances. He provided one impetus to the local economy in 1786, however, when he and other residents of the Out Ward petitioned the Common Council of New York City "to erect a public market-house at Catharine Slip, at their own expense." That June, Rutgers attended a council meeting to announce "that the Market House at Catharine Slip was erected & ready for the reception & accomdation [sic] of Butchers & Country people." The market proved popular and was subsequently enlarged several times. In late 1788 Rutgers sought to exploit the proximity of his property to the waterfront by petitioning the Common Council "for a Grant of the Soil under Water" opposite his land at Corlears Hook in order to build a slip; the next year the council granted his petition, and Rutgers Slip was constructed.[28]
Rutgers also joined, in 1789, other prominent New Yorkers such as George Clinton, Alexander Hamilton, and John Jay as a subscriber to the bipartisan New York Manufacturing Society, which unsuccessfully attempted to establish textile factories to employ the "honest poor." By 1791, Rutgers's finances had apparently recovered sufficiently to establish "near his dwelling house at the ship-yards" a "Bleach-field & Thread Manufactory … with every apparatus necessary for carrying on the business in an extensive manner." He leased the enterprise to Matthew Adam, who advertised that he was conducting it "on the most approved and satisfactory method … upon the Dutch plan."[29]
Once back in the city, Rutgers soon resumed his role in public affairs. He was elected an assessor for the Out Ward (renamed the Seventh Ward in 1791), and more frequently, because of his reputation for probity, appointed an election inspector. When he was appointed an inspector in September 1790, for instance, the designated polling place was the well-known Bull's Head Tavern in Bowery Lane. Elections in the new nation were boisterous, rowdy, corrupt, and sometimes violent affairs. In the fall of 1803 when the Common Council designated the Presbyterian church on East Rutgers Street a polling place, Rutgers refused to open the church and complained that the "Corporation had no right to order the Election held in his Church and that it should not be open for that purpose being liable to receive injury." But because the nearby tenement he provided as an alternative was not the officially designated polling place, the Common Council declared the election void. Overall, the Seventh Ward had the lowest proportion of freeholders to renters in the city: of the 3,136 people who voted in the Seventh Ward in 1807, thirteen percent were freeholders as compared to eighty-six percent who rented.[30] The demographic of the neighborhood was definitely changing.
By 1788, Rutgers was also a major in the First Regiment of Militia of the City and County of New York, which was commanded by Maj. Gen. William Malcom. Because New York then served as the new nation's capital, it was a high-profile position. One highlight of the period occurred in 1789 when (now) "Lieutenant Colonel, Commandant" Rutgers led his militia regiment at George Washington's inaugural parade. Another was in July 1790 when the regiment paraded on the Rutgers property; they were commanded by Lieutenant Colonel Rutgers and were reviewed by President Washington, Governor Clinton, and the chiefs of the Creek tribe. In March 1795, however, citing "the increase of my business and the consequent daily avocations in which I am necessarily engaged," Rutgers resigned his commission in the state militia, thus ending nearly twenty years' military service on behalf of his country.[31] For the rest of his life, nonetheless, he would be known as "Colonel Rutgers."
One major problem in the late 1790s developed out of Rutgers's relationship with John Lamb, the former leader of the New York Sons of Liberty. In 1789, Lamb received the lucrative federal appointment as collector of customs for the Port of New York. In compliance with law, Rutgers and three other gentlemen stood surety for Lamb in the amount of $50,000. In 1796, however, an audit revealed that a dishonest clerk in Lamb's department embezzled a large sum of money. Lamb was forced to resign in 1797, and in 1799 the United States Attorney for New York sued Lamb, Rutgers, and some of the other sureties; Aaron Burr represented Rutgers. In February 1801, and again in March 1802, Rutgers and the other sureties petitioned Congress for a release from the obligations of their bond on the grounds that the Treasury Department was negligent in its oversight. Congress took no action, however, and in March 1803 the U.S. District Court for New York gave a judgment in favor of the United States. To his credit, Rutgers did make a good-faith effort to settle the matter, which was not accomplished until 1808.[32]
With the death of his father, Colonel Rutgers had become the family patriarch. He never married, but a significant development on the domestic scene was his adoption in 1789 of John P. (1785–1806) and William Bedlow Crosby (1786–1865), who were the sons of Rutgers's niece Catharine Bedlow (1757–1789) and her husband Dr. Ebenezer Crosby (1753–1788), who had served as a surgeon in George Washington's Life Guard. Both parents died within a few months of each other. On her deathbed, Catharine Bedlow Crosby chose her uncle Henry to be the boys' guardian "in preference to nearer relatives on account of his piety."[33]
Rutgers was now primarily a developer, landlord, and rentier who amassed wealth from leases and investments; as such, he represented a trend in the new nation toward owning not only material wealth, but also liquid, financial assets. Early nineteenth-century Manhattan has been described as an "irregular collection of mostly regular grids." One of the most distinctive of those "regular grids" was the Rutgers farm. Originally subdivided in 1755, the Rutgers farm was surveyed again the next year, in 1775 (in conjunction with his father making out a will), in the 1790s, and in 1813. The property was ultimately defined by Montgomery, Division, Catherine, and Cherry streets, which in later years comprised a significant portion of the Lower East Side neighborhood. Actual development initially proceeded slowly, but accelerated during the 1790s. Over time, hills were leveled, marshy areas filled, and the shoreline extended into the East River. Like other Manhattan developers, Henry Rutgers benefited from the burgeoning postwar urban population: 33,000 in 1790, 60,000 in 1800, 96,000 in 1810, 123,000 in 1820 and, by the year of his death in 1830, 202,000. And like most entrepreneurs of the time he was also a venture capitalist: by the early 1820s, he had invested in the Rutgers textile mill in Paterson, New Jersey.[34]
Rutgers's modus operandi in developing his property was to grant "ground leases" (i.e., long-term leases) either for buildings he himself had constructed, or to stipulate that the lessee construct a building according to specifications. Some of the buildings were used as residences, stores, or shops, such as that of the druggist Benjamin Underhill. Because of the property's proximity to the waterfront, some lessees were engaged in ancillary maritime pursuits. In 1797, the partnership of M'Bride and Blaire advertised a "sawing Business at Col. Rutgers on the East River," which was probably conducted on land leased from the latter. Likewise, in 1820 landlord Rutgers leased a property to Whitehead Hicks, "Lumber Merchant." In 1802, Rutgers gently chided his adopted grand-nephew William B. Crosby, who at age sixteen had been entrusted with managing his uncle's real estate, for leasing a sawpit and lumberyard at too favorable a rate: "Should I now give in to the measure of lowering my Rents to suit individuals, I may give up the Idea of your making a permanent bargain for any of my property." He could not resist closing with avuncular advice: "do not get wet feet … wet feet promote disorders." A typical lease might be for twenty-one years at sixty dollars per year paid quarterly.[35] It was guaranteed annual income.
An important method of controlling development was to require compliance with specified conditions. In May 1826, for example, Rutgers leased a lot to the mason Thompson Price. The lease stipulated that Price "build and erect a good substantial and workmanlike brick dwelling house not less than forty feet in depth, and not less than two stories in height, on the front of the said … premises, and so as to cover the whole front; but at no period of the term … shall there be more than one dwelling house." He also required his permission for leaseholders to sell their leases and reserved to himself first option to buy. Thus Rutgers was not only complying with state law regarding use of building materials that guarded against the ever-present danger from fire, he also maintained control over density of development and related quality-of-life issues. Uncontrolled development resulted in situations such as that at Corlears Hook, an impoverished neighborhood where in 1819 one building reportedly housed 103 people.[36]
Late in life, Colonel Rutgers congratulated himself on the development of the former Rutgers farm: "I now see the desolate fields entirely filled with the cheerful dwellings of men, free, independent, and happy!" One foreign traveler admired the private residences on Harman (later East Broadway), Henry, Madison, and Monroe streets. But Rutgers did not have complete control over how the property evolved. Many of the Seventh Ward's tavern brawls and street disturbances in the early nineteenth century were centered near Corlears Hook or in the vicinity of Catherine and Bancker (later Madison) streets. Bancker Street, where blacks and whites loitered at all hours around the numerous grog shops, was particularly notorious. Rutgers owned several properties on Bancker Street. In general, during the early nineteenth century the East River wards were evolving into "an unusual mix of vice and wealth." Corlears Hook, in particular, ultimately became one of the most notorious and squalid "sex districts."[37]
After a hiatus of sixteen years, Henry Rutgers rode the wave of Jeffersonian ascendancy when he was again elected to the New York Assembly for 1800–01 as a Republican representative for the City and County of New York. He was reelected in 1802, in 1804, in 1804–05, in 1807, and finally, in 1808. Although not an eloquent orator or debater, "by his stirling good sense, he acquired an influence." He apparently exerted a meliorating influence: "his unimpeachable moral character and uniform consistency gained him the confidence and respect of those who were his opponents." He often exerted his influence "in moderating animosity, and suppressing the feelings of rancour." The legislature also appointed him an elector for the presidential elections of 1808, 1816, and 1820.[38] When the Society of Tammany, which was originally founded as a fraternal and benevolent association and then became politicized over time, constructed its first permanent "Wigwam" in 1811–12, Henry Rutgers served on its building committee.[39]
Typical of the time, Assemblyman Rutgers was not averse to using his position behind-the-scenes to try to influence the legislative process in order to facilitate a private matter. His adopted grandnephew John P. Crosby had traveled to Jamaica to take possession of a plantation there to which he was heir. While on the island he contracted a fever and died in 1806. When his younger brother William B. Crosby attempted to claim the inheritance, the governor of Jamaica instead escheated the property on the grounds that Crosby was an alien. Henry Rutgers then attempted to use his influence in the state assembly to make passage of a pending bill regarding the estate of Sir William Pulteney, which dealt with extensive landholdings in western New York, attendant upon Crosby either gaining satisfaction in Jamaica or being indemnified from property of British subjects in the United States. In February 1807 Rutgers wrote confidently to Crosby that the matter was "beyond all doubt of successful issue." Nevertheless, by April Rutgers had to inform Crosby that the Pulteney bill had passed in committee of the whole, and that consequently he had to prosecute the matter in Jamaica.[40]
When war once again loomed with Great Britain in 1812, Colonel Rutgers supported what was a divisive and unpopular conflict. Shortly after news of the declaration of war arrived in New York, a meeting was held in City Hall Park on June 24 to express approval of the measure. The assemblage chose Rutgers chairman of the meeting and chose as secretary his friend, Marinus Willett. Rutgers transmitted the proceedings and resolutions of the meeting to President James Madison. In August 1814 two public meetings regarding the defense of the city were held at the park, both of which Rutgers chaired.[41] The previous December, Rutgers was among the group of prominent men whom the inventor Robert Fulton invited to join the Coast Defense Society. He served on committees that raised funds and supervised the construction of Fulton's novel, steam-powered warship, which was constructed at Brown's shipyard at Corlears Hook but was completed after the war ended. On the vessel's third trial run in September 1815, it departed from Corlears Hook and returned to Rutgers Slip. In December of that year Rutgers coauthored a report on the construction of the vessel, which also eulogized the inventor, who had died the previous February.[42]
It is said that Henry Rutgers resolved to devote one-quarter of his income to charitable causes. While that may or may not be true, it is more certain that "it was a remark which he often made, that, with regard to his charities, he was resolved to be his own executor." His numerous benefactions over several decades, some of which were anonymous, were in three interrelated areas: poor relief, education, and religious institutions. One contemporary estimated that Rutgers donated $10,000 yearly to the poor. He would also remit the rents of tenants who were unable to pay, a kindness which "secured the strong affection of the poorer classes of the community … dwelling on his property."[43]
Rutgers was particularly passionate about education. His support of education was recognized by the state legislature in 1802 when they appointed him a regent of the state university. Between 1804 and 1817, he also served on the board of trustees of the College of New Jersey at Princeton; he subscribed five thousand dollars to the vice president's fund. Rutgers supported the education of divinity students, and "frequently gave them a home in his house, while they were pursuing their studies." His will stipulated that the customary funeral expenses be kept at a minimum so that more money could go to the infant school society.[44]
His benefactions extended to all educational levels. In 1805 the Free School Society was incorporated to provide secular education for the children of the "laboring poor" who were otherwise excluded from denominational schools. One year later Henry Rutgers donated two adjoining lots in Henry Street for a new school, and was part of the committee that supervised construction of the building. In October 1811 "New York Free School No. 2" was completed, and it accepted its first class of neighborhood children on November 13. In the school's early years, Rutgers visited regularly. In January 1812, for instance, he "Examined the Boys in arithmetic—was well pleased with their performance, and heard several classes of Boys and Girls in reading and spelling." From 1810 to 1830, he served as a trustee of the renamed Public School Society. Upon the death in 1828 of its first president, De Witt Clinton, Rutgers succeeded to the office of president.[45]
Henry Rutgers's most enduring educational legacy resulted from the renaming of Queen's College in New Brunswick, New Jersey in his honor. Starting in 1816, Rutgers had served as a trustee of the college, although he actually attended only two annual meetings. His tenure on the board coincided with a troubled period in the college's history: there was conflict between the college trustees and the General Synod of the Reformed Church over governance, curriculum, and funding. In 1816, for the second time in its history, undergraduate education was suspended. Pleading ill health and inability to attend meetings, but possibly also because of the institution's problems, Rutgers resigned in 1821. As president of the Corporation of the Reformed Church, however, he maintained enough of an interest in the institution to both host and chair at his house in March 1822 a meeting of the "Committees of Conference appointed by the Board of Corporation of the General Synod & the Trustees of Queen's College" for the purpose of resolving the dispute over finances.[46]
In May 1825, the Queen's College trustees appointed Rev. Philip Milledoler professor of theology. Milledoler was a noted churchman who was also pastor of the Collegiate Dutch Church in New York, where Henry Rutgers was an elder. No doubt in deference to Rutgers's reputation for piety and benevolence, and also in hopes of a large donation, Milledoler suggested at a meeting of members of the General Synod on September 15, 1825, that they rename the college in honor of Rutgers, which was unanimously approved by both the synod and the trustees. That same day, the trustees also elected Reverend Milledoler president of the renamed college. On November 30 the state legislature approved the name change, and so Queen's College officially became Rutgers College. Early in 1826, Rutgers gave the eponymous institution $200 for the purchase of a bell to be hung in the new cupola of the college building—the bell is still rung today on special occasions. In May of that year he also gave a bond (dated March 27) for $5000 to the synod to be held in trust for the benefit of the college, the interest on which was to be paid semiannually.[47]
Rutgers's support of religious institutions was a natural outgrowth of his upbringing in the Dutch Reformed Church, his personal piety, and a general "culture of benevolence." There are several anecdotes regarding his piety, which was practiced both in the domestic and public spheres. In politics, "he never took part in any important measure, without making it a subject of special prayer." He made several donations of land to Dutch Reformed, Presbyterian, and Baptist churches, usually with the stipulation that the land revert to him if a church was not built in a specified time. In 1789, the heirs of Hendrick Rutgers gave to Shearith Israel congregation in New York "a small Spot of Ground … for a Slope of a Whall" adjacent to their cemetery, the oldest Jewish burial ground in North America.[48]
From its founding in 1816 until his death in 1830, Rutgers was a member of the Board of Managers of the American Bible Society, the oldest national benevolent society. During its early years, he made donations to the organization, served on committees, and authored reports. In December 1816 Rutgers reported to the Society on the request of a Bible society in North Carolina for Bibles printed in foreign languages for the use of European immigrants on the frontier. Reminiscent of the dispute over preaching in English in Dutch churches during the 1760s, he also added the recommendation:
The committee beg leave to observe that however desirable they are to accommodate the Emigrants with the Word of Life in their Native Language, they contemplate a day not far distant, when all Citizens of the United States will be compelled from necessity to embrace that language in which the Laws of the Land are promulgated, and every Citizen of course must for the convenience of Trade and intercourse, yield the use of their native language to that of the Country in which they reside.
He left a bequest in his will to the American Bible Society "to be expended in printing stereotype bibles."[49]
Henry Rutgers was both a product of, and an agent of the "Age of Benevolence" (1790–1840). His humanitarianism exemplifies a bridge between the older form of private charity and the newer form of philanthropy that was channeled through the proliferation of voluntary associations such as the Free School Society or the American Bible Society. He evidently practiced both forms simultaneously. One well-remembered charity was that every New Year's Day he gave to the children of his neighborhood a cake and a religious tract. When infirmity prevented him from personally distributing the gifts, they were given through the Sabbath schools affiliated with the three churches in his ward.[50]
In his later years Rutgers periodically suffered health problems. He died at home on February 17, 1830. A contemporary noted the passing of "the most benevolent man in this city," and commented that "his death at this inclement season will be severely felt" by the poor. On February 19, a special meeting of the Common Council, before which Rutgers had appeared numerous times over the years, was called to announce his death. They resolved that "as a testimonial of the high estimation which they entertain for his public and private Virtues," the entire council would attend his funeral. A memorial service was held on February 28 at the Market Street Presbyterian Church, at which his friend and pastor Rev. William McMurray delivered a eulogy. Rutgers was initially buried in the Reformed Church on Nassau Street (the same church in which he was baptized), then removed in 1858 to the Middle Church in Lafayette Place, and finally, in 1865, interred in Green-Wood Cemetery, Brooklyn.[51]
Henry Rutgers's life over eight decades focused on family, religion, neighborhood, community, and country. Hardly a letter passed to family or friends that did not close by conveying compliments to several people. It was his maxim to "above all Study to keep harmony in the family." In the case of his sister Anna Bancker, however, it was said that "she not only loved him extremely but feared him extremely," a comment which, along with other evidence, suggests a personality that used his wealth and influence to gain or maintain control. Certain family members were disgruntled over their share of his estate.[52] Why he never married is a matter of conjecture—it was never addressed in any extant contemporary source. Given his social prominence, piety, and benevolence, he was certainly not a licentious, avaricious, selfish, "disorderly bachelor" who, it was felt, threatened the stability of the early Republic; nor was he a "sporting male" type of bachelor who reveled in fighting, gaming, drinking, and womanizing.[53] His numerous acts of charity may to some extent have compensated emotionally and psychologically for his not marrying.
Henry Rutgers was a lifelong New Yorker. With the exception of his military service during the Revolutionary War and his tenure in the New York legislature, he spent his entire life in the city of his birth. He was passionately concerned about his city and his neighborhood, and occasionally addressed in person or petitioned the Common Council regarding local issues. There were, admittedly, also benefits to himself, such as his agitation to construct new wharves and piers in the East River of stone instead of wood. But despite his civic involvement, he was not immune from being cited for nuisances on his properties. In 1803 and 1804, he had used his influence both with the Common Council and in the state legislature "to extend the right of Suffrage" in the city.[54] When in January 1830 it was obvious that Colonel Rutgers was "nearly lost to us," Mayor Walter Bowne eulogized
This excellent man, this philanthropist who has always devoted himself to the great interests of his native City, and of his country, and shown [shone] conspicuously in the path of piety, and in all the charities of society …. His countrys [sic] good was his great object and he was a patriot in whom the people steadily reposed their confidence and delighted to Honor.[55]
A little over one month later, Henry Rutgers's last words paid fitting tribute to the place he loved: "home! home!" And the "mark of confiscation" placed by the British in 1776 still remained on his door.
Selected Bibliography
Abbott, Carl. "The Neighborhoods of New York, 1760–1775." New York History 55 (Jan. 1974): 35–54.
Albion, Robert Greenhalgh. The Rise of the New York Port, 1815–1860. New York: Charles Scribner's Sons, 1939.
Blackmar, Elizabeth. Manhattan for Rent, 1785–1850. Ithaca, N.Y.: Cornell University Press, 1989.
Bourne, William Oland. History of the Public School Society of the City of New York. New York: Wm. Wood & Co., 1870.
Brückbauer, Frederick. The Kirk on Rutgers Farm. New York: Fleming H. Revell Co., 919.
Buttenwieser, Ann. Manhattan Water-Bound: Planning and Developing Manhattan's Waterfront from the Seventeenth Century to the Present. New York: New York University Press, 1987.
Chambers, Lori, and Bill Glovin. "The Search for Colonel Henry." Rutgers Magazine (Fall 2002): 20–25, 42–45.
Chapelle, Howard I. Fulton's "Steam Battery": Blockship and Catamaran. United States National Museum Bulletin 240: Contributions from the Museum of History and Technology. Washington, D.C.: Smithsonian Institution, 1964.
Crosby, Ernest H. "The Rutgers Family of New York." New York Genealogical and Biographical Record 17 (April 1886): 82–93.
Demarest, William H. S. "Henry Rutgers: Soldier, Philanthropist, Christian, and Civic Leader." Rutgers Alumni Monthly 5 (Jan. 1926): 104–07.
———. A History of Rutgers College, 1766–1924. New Brunswick, N.J.: Published by Rutgers College, 1924.
Friedman, Lawrence J. and Mark D. McGarvie, eds. Charity, Philanthropy, and Civility in American History. Cambridge: Cambridge University Press, 2003.
Gilje, Paul A. and William Pencak, eds. New York in the Age of the Constitution, 1775–1800. Cranbury, N.J.: Associated University Presses, 1992.
Goodfriend, Joyce D. "Archibald Laidlie and the Transformation of the Dutch Reformed Church in Eighteenth-Century New York City." Journal of Presbyterian History (Fall 2003): 149–62.
Guernsey, R. S. New York City and Vicinity During the War of 1812–15. 2 vols. New York: Charles L. Woodward, 1889.
Humphrey, David C. From King's College to Columbia, 1746–1800. New York: Columbia University Press, 1976.
Kass, Alvin. Politics in New York State, 1800–1830. Syracuse, N.Y.: Syracuse University Press, 1965.
Kramer, Barry S. "The Compleat Henry Rutgers: Soldier, Politician, Philanthropist and Benefactor of Queen's." Pts. 1 and 2. Rutgers Alumni Monthly (October 1963): 2–4, (November 1963): 4–6.
Lesser, Charles H. The Sinews of Independence: Monthly Strength Reports of the Continental Army. Chicago: The University of Chicago Press, 1976.
McCaughey, Robert A. Stand, Columbia: A History of Columbia University in the City of New York, 1754–2004. New York: Columbia University Press, 2003.
McCormick, Richard P. Rutgers: A Bicentennial History. New Brunswick, N.J.: Rutgers University Press, 1966.
McMurray, William. A Sermon Occasioned by the Death of Col. Henry Rutgers, Preached in the Church in Market Street, February 28th, 1830 by William McMurray, D.D. New York: Rutgers Press (William A. Mercein printer), 1830.
Minutes of the Common Council of the City of New York, 1675–1776. 8 vols. New York: Dodd, Mead, 1905.
Minutes of the Common Council of the City of New York, 1784–1831. 19 vols. New York: City of New York, 1917.
Minutes of the Common Council of the City of New York, 1784–1831: Analytical Index (prepared by David Maydole Matteson). 2 vols. New York: City of New York, 1930.
[Rutgers, Henry] "Colonel Rutgers's Address." Magazine of the Reformed Dutch Church 2 (Oct. 1827): 212–13.
Rutgers, Nicholas Gouverneur. "Four Families of New York and New Jersey: Rutgers, Livingston, Gouverneur, Neilson" (typescript). 1976?
———. "The Rutgers Family of New York and New Jersey" (typescript). 1967?
Shotwell, Edmund B. Manuscript Notes on the Life of Henry Rutgers, 1946–1962 (R-MC 005), Special Collections and University Archives, Rutgers University Libraries, New Brunswick, N.J.
Shumway, Floyd M. Seaport City: New York in 1775. New York: South Street Seaport Museum, 1975.
Stansell, Christine. City of Women: Sex and Class in New York, 1789–1860. New York: Alfred A. Knopf, 1986.
Stokes, I. N. Phelps. The Iconography of Manhattan Island, 1498–1909. 6 vols. New York: Robert H. Dodd, 1915–1928.
Wosh, Peter J. Spreading the Word: The Bible Business in Nineteenth-Century America. Ithaca, N.Y.: Cornell University Press, 1994.
Young, Alfred F. The Democratic Republicans of New York: The Origins, 1763–1797. Chapel Hill, N.C.: University of North Carolina Press, 1967.