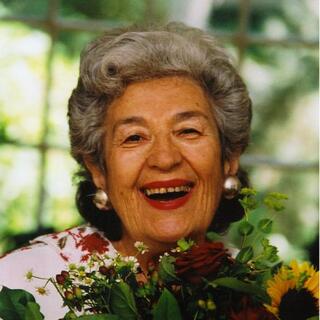 Miriam Schapiro was a feminist, an artist, an educator, and a collector of objects. She is well known for being one of the mothers of feminist art. Miriam Schapiro was born in 1923 in Toronto to Theodore and Fannie Schapiro. Theo and Fannie were Jewish Russian immigrants who had immigrated separately to America to avoid prejudice sometime before the Russian Revolution. When Miriam was one years old, she and her mother came to New York City to live with Theo permanently.
Schapiro studied to be an artist from a young age, encouraged by her father who also was an artist. She received her BA in 1945, her MA in 1946, and her MFA in 1949 at the University of Iowa in Iowa City. At Iowa, she met her husband Paul Brach, and they both studied printmaking with Mauricio Lasanky. In the 1950s and 1960s Schapiro painted and created prints in an abstract manner that held personal narratives and repeated similar imagery like windows, eggs, and shrines. With the consciousness raising of feminism and women writers like Doris Lessing and Simone de Beauvoir, in the 1970s, Schapiro's work became more aggressive and political.
In the 1971, Schapiro co-founded the Feminist Art Program (FAP) at the California Institute of the Arts with Judy Chicago. Their first project was the iconic exhibition Womanhouse. Miriam Schapiro continued the FAP until 1975. In 1976, she travelled to Kansas City to give a lecture on women art makers (untrained women artists). During her stay, Schapiro found a tablecloth with embroidered women's names on them at a Goodwill store. Schapiro cut the tablecloth and included it in her artwork Water is Taught by Thirst. It was this point that she narratively connected her interest in women's art to her own art making strategies. she would continue to make "femmages" (fabric collages) well into the 2000s. In 1976, after moving back to New York City with her family, Schapiro was one of the founding members of two major feminist organizations: Heresies Collective and the New York Feminist Art Institute. She continued to make work and exhibit until the mid 2000s.
Schapiro's work appears in numerous museum collections in the United States, Germany, Australia and Israel including the Metropolitan Museum of Art, the Museum of Modern Art, The Whitney Museum of American Art, the Brooklyn Museum, the National Gallery of Art, the National Museum of American Art, and many others. Schapiro was honored with 2 retrospectives in 1980 and 1997, a thirty-year work on paper retrospective in 1999, numerous one-person exhibitions, and has been included in hundreds of group exhibitions throughout the world.
Miriam Schapiro passed away in 2015.
View a list of the collections in the Miriam Schapiro Archives