Miriam Schapiro Archives on Women Artists
About Miriam Schapiro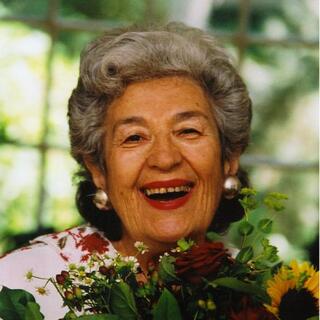 Miriam Schapiro was a feminist, an artist, an educator, and a collector of objects. She is well known for being one of the mothers of feminist art. Miriam Schapiro was born in 1923 in Toronto to Theodore and Fannie Schapiro. Theo and Fannie were Jewish Russian immigrants who had immigrated separately to America to avoid prejudice sometime before the Russian Revolution. When Miriam was one years old, she and her mother came to New York City to live with Theo permanently.
Schapiro studied to be an artist from a young age, encouraged by her father who also was an artist. She received her BA in 1945, her MA in 1946, and her MFA in 1949 at the University of Iowa in Iowa City. At Iowa, she met her husband Paul Brach, and they both studied printmaking with Mauricio Lasanky. In the 1950s and 1960s Schapiro painted and created prints in an abstract manner that held personal narratives and repeated similar imagery like windows, eggs, and shrines. With the consciousness raising of feminism and women writers like Doris Lessing and Simone de Beauvoir, in the 1970s, Schapiro's work became more aggressive and political.
In the 1971, Schapiro co-founded the Feminist Art Program (FAP) at the California Institute of the Arts with Judy Chicago. Their first project was the iconic exhibition Womanhouse. Miriam Schapiro continued the FAP until 1975. In 1976, she travelled to Kansas City to give a lecture on women art makers (untrained women artists). During her stay, Schapiro found a tablecloth with embroidered women's names on them at a Goodwill store. Schapiro cut the tablecloth and included it in her artwork Water is Taught by Thirst. It was this point that she narratively connected her interest in women's art to her own art making strategies. she would continue to make "femmages" (fabric collages) well into the 2000s. In 1976, after moving back to New York City with her family, Schapiro was one of the founding members of two major feminist organizations: Heresies Collective and the New York Feminist Art Institute. She continued to make work and exhibit until the mid 2000s.
Schapiro's work appears in numerous museum collections in the United States, Germany, Australia and Israel including the Metropolitan Museum of Art, the Museum of Modern Art, The Whitney Museum of American Art, the Brooklyn Museum, the National Gallery of Art, the National Museum of American Art, and many others. Schapiro was honored with 2 retrospectives in 1980 and 1997, a thirty-year work on paper retrospective in 1999, numerous one-person exhibitions, and has been included in hundreds of group exhibitions throughout the world.
Miriam Schapiro passed away in 2015.
View a list of the collections in the Miriam Schapiro Archives
About the Miriam Schapiro Archives on Women Artists
The Miriam Schapiro Archives on Women Artists works to document, preserve, and make available to researchers postwar American women's art history. Our collections include individual artist's papers, feminist institutional papers, and various registries of women artists. We collect various types of material including but not limited to: traditional paper archives, ephemera, printed materials, photographic/audio/visual media, and artifacts. However, given the limits of space and resources, all collecting must be selective.
The Miriam Schapiro Archives on Women Artists was founded in 2006 by the Rutgers Institute for Women and Art (IWA) in partnership with the Rutgers University Libraries (RUL). The Rutgers University Libraries had, however, long before then begun collecting the personal papers of women artists and women's art organizations active in the United States in the second-half of the twentieth century. In the mid-1980s, librarians at RUL, including Françoise Puniello, then director of the Mabel Smith Douglass Library, and Ruth J. Simmons and Ronald L. Becker of Special Collections and University Archives (SC/UA), collaborated with Dr. Ferris Olin, then executive director of the Institute of Research on Women at Rutgers, to develop the holdings of RUL in this area. Early notable acquisitions included the records of the Women's Caucus for Art, the New York Feminist Art Institute, the Lucy Lippard Women's Art Registry, and Heresies Collective, Inc.
In 2006, Ferris Olin, Director of the Margery Somers Foster Center at the Douglass Library, and Judith K. Brodsky, Professor Emerita at the Mason Gross School of the Arts, were appointed as founding director of the Rutgers Institute for Women and Art, now named the Center for Women in the Arts and Humanities. Among the programs they established (with Judy Chicago, Susan Fisher Sterling and Arlene Raven) was The Feminist Art Project (TFAP), an international collaborative initiative celebrating the feminist art movement through providing opportunities for networking and shared publicity. It was at TFAP's inaugural event in January 2006 that Vice President for Information Services and University Librarian Marianne Gaunt announced the establishment of the Schapiro Archives, formally recognizing the ongoing collecting initiative in honor of Miriam Schapiro's key leadership in the feminist art movement. Miriam Schapiro had donated her own papers to the archives in 2004. The Miriam Schapiro Archives on Women Artists and the Center for Women in the Arts and Humanities continue to collaborate on collection development, programs, and exhibitions. In 2009–2010, the holdings of the Miriam Schapiro Archives were showcased in a major exhibition at the Special Collections and University Archives galleries, Bridging Generations: Women Artists and Organizations from Rutgers' Collections.