William Elliot Griffis Collection
The papers of William Elliot Griffis, a unique scholarly resource, document the experience of Westerners in Japan, the roots of Japanese-American relations, and the special friendship between Japan and Rutgers during the Meiji period (1868-1912).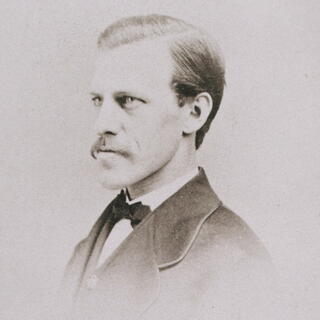 William Elliot Griffis (1843-1928), a native of Philadelphia and a veteran of the Civil War, entered Rutgers College in 1865. Preparing himself for the ministry, Griffis was enrolled in the college's new scientific curriculum, was a leading member of the Philoclean Society (a literary club), and a founder of the Targum, Rutgers' student newspaper. He also became personally acquainted with some of the first Japanese students to come to the United States.
View the Griffis Collection finding aid
Even before the restoration of the Meiji Emperor to power in 1868 ushered in an era of rapid technological change, a few Japanese had ventured abroad to study. Among the first were a group of students who came to New Brunswick, New Jersey. Able and eager to learn, they made a profound impression on many of their American peers. In particular, Kusakabe Taro, a young samurai from the province of Echizen, became the first Japanese to become a member of Phi Beta Kappa, the first Japanese to graduate from Rutgers College, and along with a Japanese student at Amherst, the first to graduate from an American college. Sadly, Kusakabe's degree was awarded posthumously; he died of tuberculosis only weeks before commencement. William Elliot Griffis was among those who especially felt the loss: he had tutored Kusakabe in English and Latin.
When the offer came in 1870 to travel to Echizen (modern Fukui) and teach English and science, Griffis was ready to accept. He arrived in Japan in the midst of the political and social turbulence of the Meiji Restoration. Feudalism was being dismantled, and after a year Griffis relocated to Tokyo, where he became an instructor at Kaisei gakko (later Tokyo University). The years in Japan were well spent. Griffis taught and made contacts, traveled, kept a journal, wrote for the international press, and gathered materials on subjects that interested him. In 1872, Griffis was joined by his sister, Margaret Clark Griffis, who also worked as a teacher involved with the first developments of modern Japanese women's education.
Griffis returned to the U. S. in 1874, but his work with Japan had only begun. After studying at Union Theological Seminary to realize his goal of becoming a minister, he embarked on a fifty-year career preaching, lecturing, and writing. He authored over with fifty books, beginning with The Mikado's Empire in 1876 (for several decades the authoritative text in English on Japanese history and culture) and innumerable journal articles and entries in encyclopedias and reference books, including a great many on Japan, the Far East, and the American role in the Pacific. Over the same period Griffis maintained his contacts both with Japanese students and associates, and with other Westerners involved in work with Japan, including especially missionaries and yatoi (foreign employees of the Japanese government). He was part of what today would be called a Japanese-American network. In 1926-1927, Griffis made a return visit to Japan. He died the following year.
The library at Rutgers received Griffis's papers by bequest and family gifts after his death. The Griffis Collection is over 120 cubic feet in size, including journals, manuscripts, printed materials, photographs, family papers and scrapbooks, correspondence and ephemera. It represents the entire range of Griffis's work. Griffis's Fukui and Tokyo journals have been of great interest to scholars, as have been materials representing Margaret Clark Griffis's work as a teacher for the two years she spent in Tokyo. Griffis's manuscripts are joined by copious notes and source materials on his many projects and interests: Japan, its history and religion; U. S.-Japanese relations; missionary work and women's education; Korea and China; figures important in the history of U.S.-Japanese relations from Millard Fillmore and Matthew Calbraith Perry to the missionaries Guido Verbeck, James Ballagh, J. C. Hepburn and Samuel Robbins Brown; fine and applied arts; folklore; current events and world affairs; biblical literature; New York State and American history (including the 1779 Sullivan Expedition against the Iroquois); and so on.
In addition to his own work, the materials Griffis gathered are extremely important and include many items unique to the collection. Among them are not only very rare printed materials in Japanese (books, pamphlets and maps) from the late Tokugawa and Meiji periods, but also more that 360 manuscript essays, many autobiographical, written in English by Japanese students of Griffis on numerous subjects. Books written by Griffis, as well as those he collected are held by Special Collections and University Archives and catalogued under the sub-location Griffis Colection X-GRIF. Hundreds of photographs in the collection show prominent Japanese and foreign residents, as well as the life and landscape of Meiji Japan, and also provide documentation of the early history of Japanese photography. The collection also includes manuscript materials by several significant figures, including the memoirs of R. Henry Brunton, an engineer contracted by the Meiji government to oversee much of its construction of lighthouses and bridges, and the logbook of Silas Bent, Flag Lieutenant on the Perry Expedition in 1853-1854. Other University records and acquisitions relating to Japan and the history of U.S.-Japan relations complement these holdings. Portions of the William Elliot Griffis Collection have been microfilmed and published as Japan through Western Eyes: Manuscript Records of Traders, Travellers, Missionaries & Diplomats, 1853-1941. Parts 2-5. Adam Matthew Publications, 2000. The microfilm has now been digitized as part of the Area Studies: Japan database.